Everyone desires good health.
On Sunday 11th July 2021, the Mary Remarkable Foundation did their quota to satisfy that desire for more than 400 residents of Onna LGA in Akwa Ibom State.
Arriving with a team of volunteers, doctors, and other medical workers, the foundation set to work immediately conducting eye tests and giving out prescription glasses to about thirty persons, as well as eye drops and medications to over 100 people.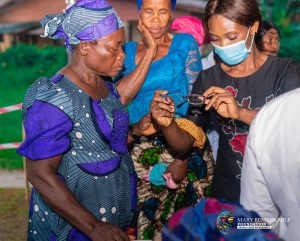 Faces beamed with gratitude and joy and some of them voiced out their thoughts while showering praises and prayers to everyone at the foundation.
Without bias for age and gender, the foundation attended to over 400 persons, conducting medical consultation, medical tests, and community sensitization to all who came around.
HIV serology screening, Hepatitis B and C screening, malaria parasite tests, and Random Blood Sugar tests were conducted. Vital signs were checked as well as BP measurements and anthropometric evaluations.
Even when the weather became somewhat unfavourable, the team was not deterred. They doggedly went ahead to distribute medications including anti-malarial drugs, antibiotics, and deworming tablets to all who had consulted with the capable doctors on ground.
Eventually, the sun shone as though to give the outreach approval from above. This enabled the team to do more, giving out mosquito nets, insecticides, and sanitary pads to people who needed such.
Needless to say, the residents of Onna will not forget Mary Remarkable Foundation in a hurry.
The Mary Remarkable Foundation is self-funded with support from well-meaning individuals and organizations.