The Akwa Ibom Soups War would go down in history as one of the fiercest battle amongst soup lovers in the world.
Across the over 250 ethnic groups in Nigeria, soups in the Akwa-Cross region arguably have the most luring looks and palatable taste in the country.
From Afang soup to Afia Efere, Editan soup, Atama soup, Edikan Ikong and okro soup, ethnic groups in the Akwa-Cross region have a special way of making these soups hit the right spot in the brain while easily gliding through the oesophagus.
The Genesis of Akwa Ibom Soups War
On September 10, 2020, without any premeditation, a blogger and PR enthusiast, Eb Ekeng at exactly 7:17am dropped the first landmine.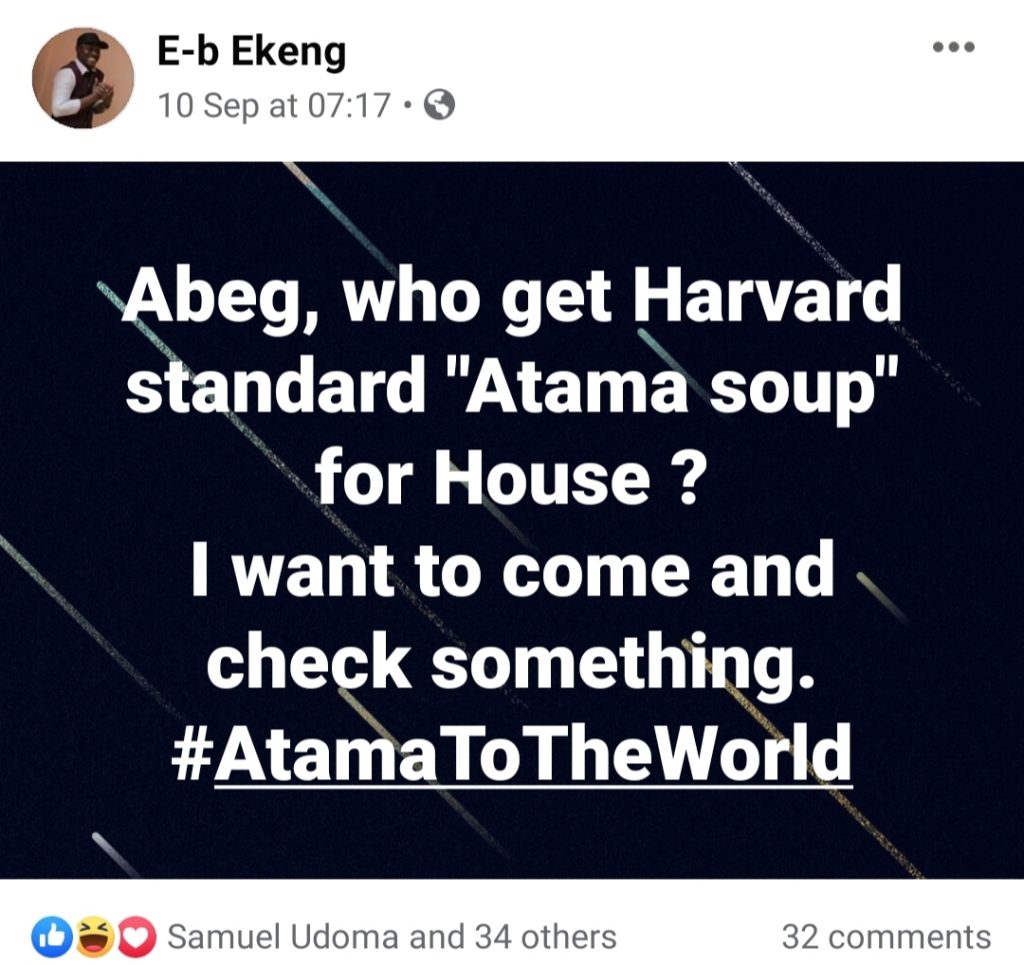 The wide-eyed social media influencer asked a question that would later escalate into a full-flesh war among soup lovers.
Howbeit, he had no idea what lay ahead.
Ekeng went ahead to proclaim his allegiance to Atama soup and thereafter dropped alluring photos of the soup which left his followers salivating.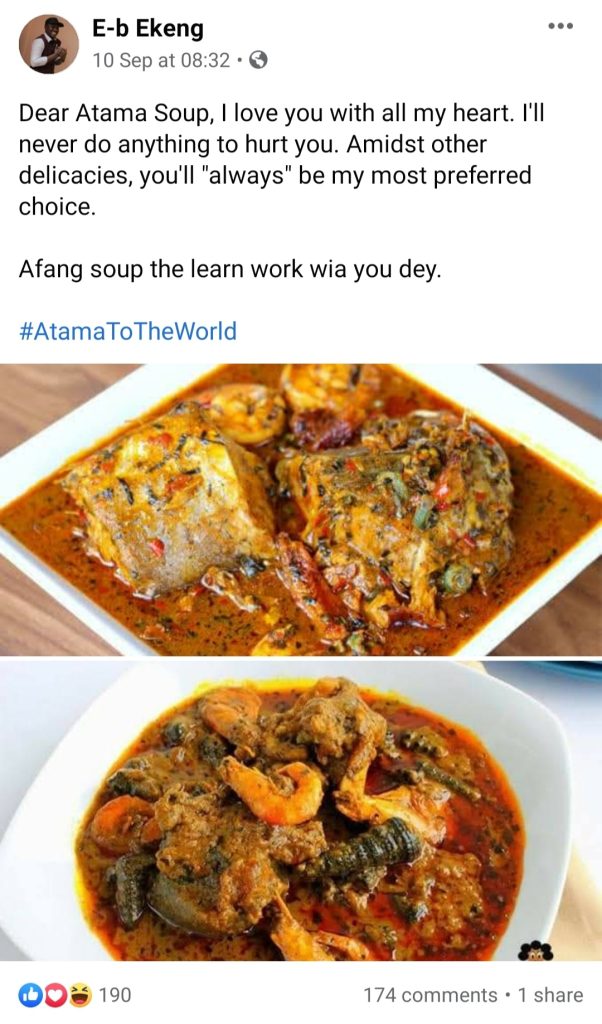 He bragged and bragged.
With that, his friend, a certain Samuel Udoma and fellow social media influencer confessed Ekeng had made him salivate too.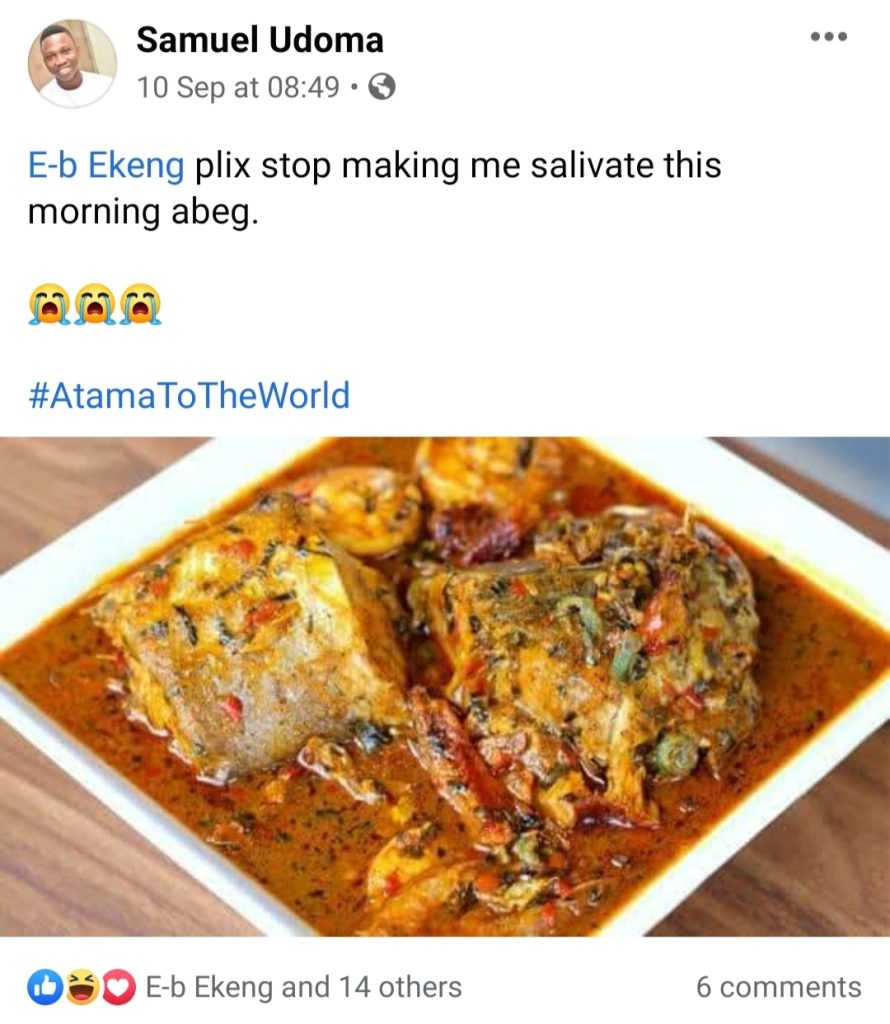 The two would go on to gather more gunpowder and drop more landmines.
The truth got exposed before midday – the duo were helping draw attention to a certain restaurant which had Atama on the menu for that afternoon.
Ekeng and friend got what they wanted but alas! The brags and claims they both had made about Atama caused an unexpected stir.
The Banters
Banters started flying around. The landmines began blowing up.  
Afang was dragged. Atama was dissed.
Afang was praised, Atama plundered with accolades.
Before the end of the day, pictures of Uyo's popular dress maker and CEO of Men's Court, Bobby Bassey flooded the social media space.
He was seen receiving a package from Udoma.
Udoma, Lead Publisher of the Gasm Blog put up a post and captioned it, "Bobby Bassey Dumps Afang Soup, accepts a plate of delicious Atama…"
Bassey, an ardent Afang soup lover later countered the claims made by Udoma and his camp of Atama advocates with a series of posts after going live on Facebook.
The war got hotter and spilled into a soup civil war.
Afang Soup Vs Atama Soup Polls: Day 2 (September 11)
By the next day, polls were running across Twitter, Facebook and Instagram.
Afang or Atama?
It looked like a war between football's most popular players Cristiano Ronaldo and Lionel Messi online.
But at the polls, Afang soup led with a wide margin.
Booom! Flyers emerged for a football match to hold between Team Afang and that of Atama the next day, Saturday.
The match was scheduled for the spacious field by the Ibibio Museum Park. Akwa Ibom's former commissioner of Tourism Victor Antai endorsed the war and so did a flurry of other top wigs.
However, like political battles, more factions emerged.
Godwin Morgan, co-founder 36Zero.ng joined the soup war with an armoured tank for Melon Soup. 
He succeeded to pull some e-soldiers on his side. Howbeit, he faced major opposition as more factions emerged.
Spurrti.com's co-founder, Eno-Obong Alphonsus flagged her campaign for Afia Efere. WeSocial.ng's Team Lead, Ekemini Joseph made a case for Efere Udung.
Voices emerged for Editan, Aniedi AnndeLegend of Netizen Digital struggled in the battle with a small team of Okro soup lovers.
More chaos. More banters. Brands and Public figures were jumping on the trend.
Governor Udom Emmanuel's Aide on New Media, Aniekeme Finbarr wrote a post eulogising Afang, Member representing Etinan/Nsit Ibom/Nsit Ubium Federal Constituency in the National Assembly, Honourable Onofiok Luke pulled his weight behind Okro by the third day of the war
Team Afang Vs Team Atama: Day 3
On Saturday, Akwa Ibom had been greatly stained with oil and the world couldn't help but watch on as no live was lost.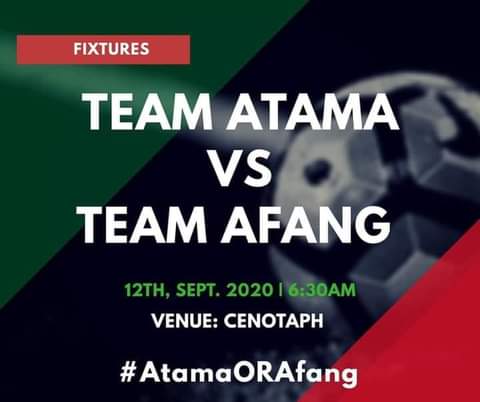 The football match ensued as was planned and both sides settled thereafter amicably with plates of Afang and Atama.
The Peoples Democratic Party's newly inaugurated Publicity Secretary, Borono Bassey, SA to the Governor on Social Reorientation, Mr. Ekpeno Gold, Vice Chairman of Uyo Local Government Area, Udeme Akai, Brand Consultant and Chief Waiter of Discovery Park Nature Udoh are said to have distinctly supported the idea.
The war of soups might be gradually waning in momentum ahead of Akwa Ibom's thirty-third birthday anniversary celebrated every 23rd of September and some believe the tourism sector of the state should have leveraged on the trend for economic gains.
Nollywoodian and Boot Film Camp's CEO, Aniebiet Francis opined that the wars should be beyond "social media trend and banter."
"Ibom Soups War: a tourism potential that should be taken beyond social media trend and banter," she stated on Facebook.
On the next day, September 13, the wars regained momentum but this time on the airwaves.
The Radio Debate: Afang Vs Atama
Governor Udom Emmanuel's Special Assistant on Research and Documentation, Mr. Essien Ndueso who anchors the Dakkada Media show on Comfort 95.1 FM announced (through a repost) that the wars will be on the aforementioned programme the next day.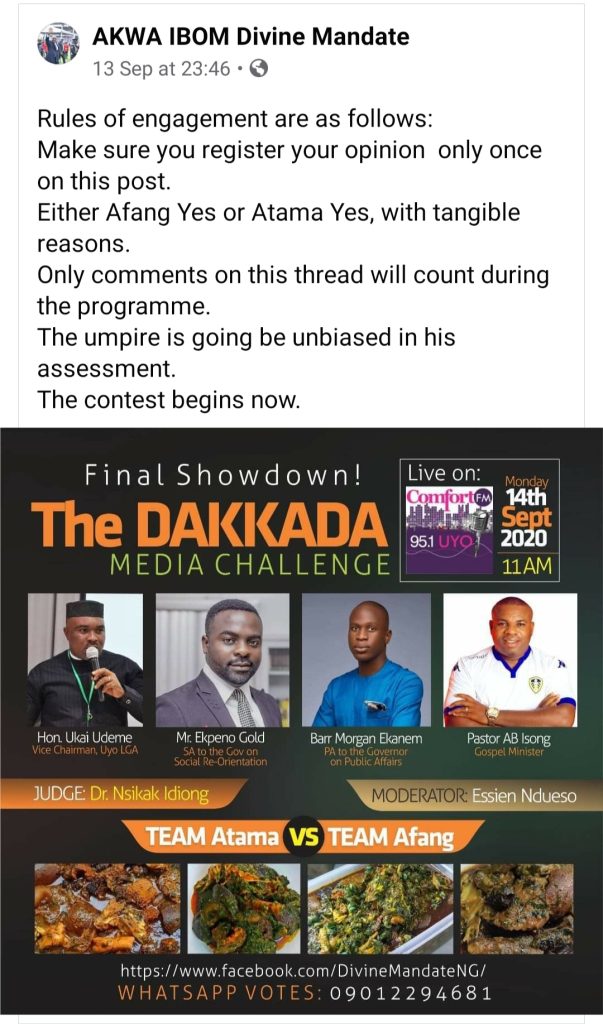 And so it was!
Two Government Aides, one Pastor and one politician were roped into the battle.
SA to the Governor on Social Re-Orientation, Ekpeno Gold and Vice Chairman Uyo L.G.A, Udeme Akai held the fort for Atama.
The Governor's Personal Assistant on Public Affairs, Barr. Morgan Ekanem and a Gospel Minister, Pastor Ab Isong mounted the front lines for Afang.
Premises were made. Arguments were busted.
Afang was hailed, Atama heralded.
In the end, it was the callers who had the final say.
Eight callers pledge allegiance to Atama. Only two made obeisance to Afang.
The Judge, an academic, Dr. Nsikak Idiong had no other option than to declare Atama winner.
Atama had clearly beaten Afang on air!
Akwa Ibom Soups War Unveiled
With Afang having taken pole position at the polls and Atama having ruled the airwaves, the war seemed bound to halt to a gradual end.
Afang lovers were happy they had won online. Atama lovers rejoiced about their victory on air. The football match had ended even but like Aniebiet Francis had stated, there was need for something beyond trends and banters.
During the Dakkada Media Challenge on Radio, Akwa Ibom State's Commissioner for Culture and Tourism had called in to announce his Ministry's readiness to support whatever grand plan that would be proposed to him by the initiators of the trend which had made the state a talk of the country on social media.
On September 15, the journey to unveil the grand plan – #TheSoupsWar – began.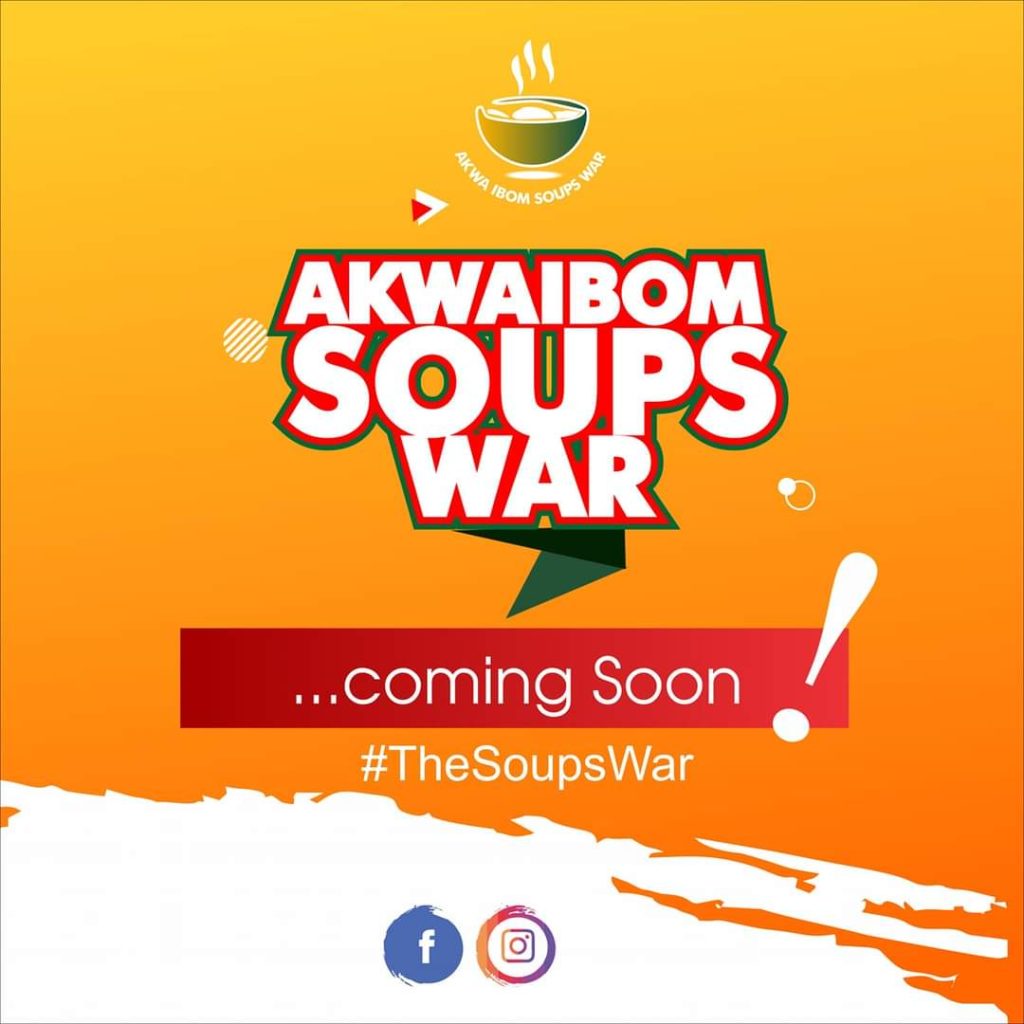 Eb Ekeng and his ally, Samuel Udoma, members of the Gasm Blog community, several influencers alike rolled the war drums.
This time with a well laid out plan to escalate the oily war that has brought Akwa Ibom people across ethnic lines and political divides together.
This article is daily updated. Do well to daily come back for more. And do SHARE! 🙏
You can also have your say. Which is your best Akwa Ibom soup?