When you search Google for tourist attractions in Akwa Ibom, you'll get a lot of recommendations but one place I'm sure will get mentioned frequently is Ibom Plaza.
You'll probably see descriptions such as, "a tourist paradise, sitting at the centre of the beautiful city of Uyo", or my personal fave, ".. there's an open theatre with water fountains within the plaza and a shopping centre".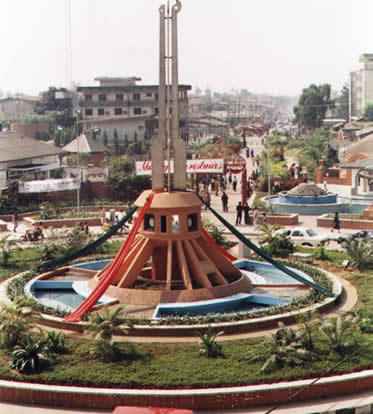 Okay, guys. I have no idea what those descriptions are referring to but that's NOT the plaza I've gotten to know. Sure, it's at the centre of town and it's a business hub but a paradise it is not. I wouldn't want you to come here expecting one thing and up disappointed when the reality falls short. SO, I'll give you an honest review of the Plaza ,from a local's perspective.
First of all, there's no open theatre. There was one when plaza was commissioned in 2001, but it stopped being functional a long time ago. Now, we go there to SHOP. The shopping centre is the most functional part of the plaza.
The best things to buy there are clothes and shoes. They are cheap guys. I'm not exaggerating. You can get jeans for N500, pretty sandals and shoes  from N800-N1500, tops from N200 and above(i kid you not). Clothes for men are pricier for some reason. For the most part, you'll get new items but some are second hand but the quality is top notch.
There's something for every budget. Make sure you stop by and get something okay?
Shopping: Try to haggle as much as possible. Don't let them cheat you. Try to buy clothes in the evening/night because the traders bring down their prices as it gets darker.
Plaza really comes alive at night. There are a lot of bars within the park where you can get a hot bowl of goat meat peppersoup or nkwobi at affordable prices. Step that down with a cool bottle of Star Radler,(i don't know how you people drink beer),and you're good for the night. Or buy some suya from the Hausa men around the bars and enjoy with your friends. I used to have a personal suya vendor who would give me the tastiest cuts. He moved away and unfortunately never came back. Plaza suya is amazing. I can almost taste it as I type. I'm definitely buying some tomorrow.
For my ladies, you can buy drugstore makeup from a multitude of stands. I've bought several nice shades of lipstick there. Please don't buy foundation at night. I made that mistake once and….
Ibom Plaza is also a very good  landmark to use when you're trying to get from one point to another within Uyo. From there,you can get a bus going to anywhere you want or somewhere close enough. If you're ever lost in Uyo, get to the plaza and find your way. You can also ask anyone for directions.
The people here are very kind.
So, in summary, it's a great place to buy cheap stuff and enjoy some downtime with friends at night but it's not the most relaxing place to be. There are more relaxing spots around town like Ibom Resorts. I wrote about it here so check it out alright?
Akwa Ibom is a really great place to visit, especially if you're working with a small budget. I'll share more articles of fun places to visit soon but till then, check out our 40DaysofAkwaIbom series here.
Until next time. Bye!