Do you remember the first time you ate Afang Soup?
If you grew up in Akwa Ibom, you probably don't remember. You've probably had it so many times that its allure has become second nature to you. That's why I'm here though, to make you fall in love with it all over again. Look at me going on and on again about food. It's probably obvious by now that I'm a huge foodie, hence the comments about love. Honestly though, Afang Soup is one of best things I've ever tasted.
Afang leaf, also called Eru in Cameroon and Okazi in other parts of Nigeria is a flavourful, green, leafy vegetable Gnetum africanum, that is commonly grown in West Africa and is used in different soups and stews.
Afang soup is quite the staple in the coastal cities of South Nigeria and is heavily featured in ceremonies of the Efik, Ibibio, and other residents of the 'South South.' Because some parts of Cameroon share a border with Southern Nigeria, Afang soup can be found here too.
I remember the first time I tasted it. I'd just arrived in Uyo for an exam at Uniuyo. My aunt gave me this huge bowl of eba and this dark coloured soup. I had never eaten it before then by the way so I was quite skeptical but I tried it anyway. Am I glad I did. It was amazing. Every single ingredient blended together in perfect harmony. From the slightly bittersweet taste of the Afang, to the smoky taste of the goat meat, to the rich flavour of palm oil, it was a party in my mouth and I was in awe. Now I'm hungry for Afang Soup again. (LOL). I've made so much noise about this soup but I haven't even told you how to make it. I'll be sure to include a recipe at the end of this article.
Have I mentioned that it's one meal that's quite cheap to make in Akwa Ibom but it's expensive everywhere else? For instance, my friend in Lagos (Hi Naomi), complained the other day that the Afang leaves she bought there were so expensive and small and that she would've bought the same amount of leaves for 200 naira in Uyo. Waterleaf is also quite cheap here. I bought 3 huge piles of it for 100 naira last month at Itam Market. I had to give some out because it couldn't fit into my pot.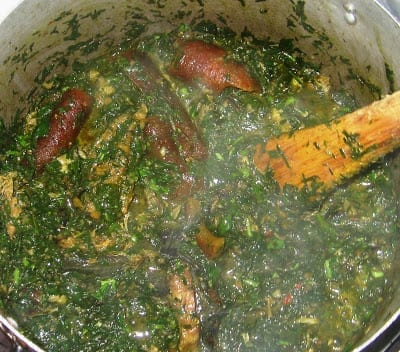 Afang Soup is a lifesaver honestly. As a broke medical student, it's one soup that I've made countless times and stored in a refrigerator for up to 3 weeks. DO YOU KNOW HOW ECONOMICAL THAT IS?!
If you're a student in Akwa Ibom, you probably know what I'm talking about. So that's what this entire article is about. My love affair with Afang Soup. One day, I'll tell you about the other love of my life but that's a story for another day. For now, I'll leave you with this recipe for the best thing you'll ever eat in your life.
NOW, ABOUT THAT RECIPE I PROMISED YOU.
Detailed Steps for cooking Afang Soup
Wash and season goat meat with onion, stock cube, pepper and salt to taste.
Using a motar and pistle, pound the thinly sliced afang leaves
Wash and cut the waterleaf
Wash the dry fish with salt, breaking off the head of the dry fish, only the body should be used.
Using hot water, soak the stock fish head, till its soft enough to be broken.
In a large pot, add waterleaf, crayfish, dryfish, palm oil and meat stock and meat, allow to boil out.
Add stock cubes, Salt and pepper to taste and allow to boil.
Add the pounded afang leaves, stir and leave for 2 minutes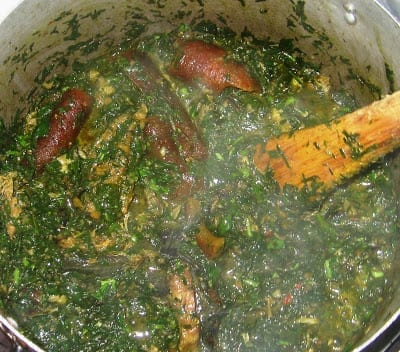 Serve hot with fufu/garri or any other swallow.
Different people make their Afang in their own different ways, giving rise to their many different tastes, smells, textures and even colours.
There's nothing like eating Afang made a different way and falling in love with the soup all over again.
Anyways, that's all for today. Tomorrow, we will show you a whole new side to the beautiful Akwa Ibom State.
See ya!