Inside the Life of Remarkable Mary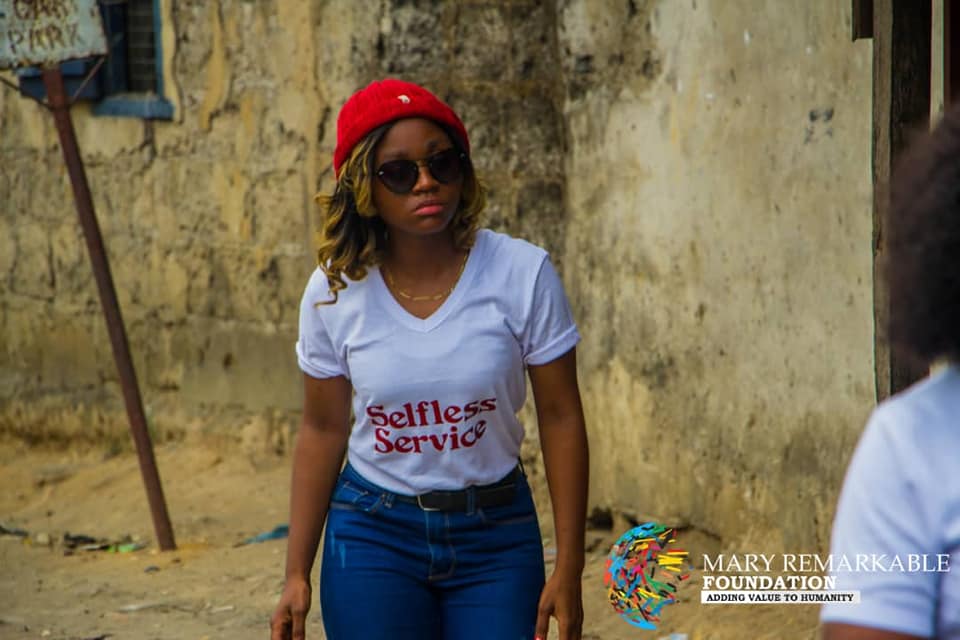 The Iron Lady – Someone else was once known by that nickname. The first female leader of a major British political party and then the British Prime Minister, Margaret Hilda Thatcher. Like her, our own Iron Lady is known for her uncompromising politics and leadership style.
A public speaker, writer, politician, feminist and founder of the Mary Remarkable foundation, a Non-governmental Organization geared towards nation building and adding value to humanity, Miss Remarkable Mary Akpan carries herself with regal authority and sense of self-worth that belies her age.
Her philosophies, albeit a bit controversial, are ones that if shared by even a fraction of the population, would push the nation towards the point where all patriots wish it already was.
A final year student of Political Science and Public Administration, University of Uyo, Miss Remarkable actually started out as a saxophonist. (Funny right, I couldn't believe it myself.) This was at about when she was thirteen. By age fifteen, she had discovered in herself a very rare gift. The ability to inspire. This, added to her intense desire to help the needy and a great disdain for injustice, pushed her slowly but surely towards the path she's on now.
"I wanted to be a lawyer when I was younger," our Iron lady confessed. (I don't think that should surprise anyone really. Margaret Thatcher was a lawyer. Crazy right?)
This wasn't just born out of a desire to correct injustice though. She had gotten fascinated with the uniform of the legal profession. The black skirts and white shirts. It held a special place in her heart. Unfortunately, however, that childhood dream never came to pass. She was not accepted into Law school when she tried.
"I just hate to see people suffer. I just hate to see people treated in a way that ought not to be so…" She's quoted as saying in an interview in 2018.
"I'm fulfilling that dream (of less suffering and more justice). Not as a lawyer, as a humanist. As a philanthropist."
After her effort to get into Law school had failed, she didn't try much harder for it. Another path now called to her. One of public service. It's the path she's now on.
Before all of these began to happen, she was already establishing herself as a public speaker. One worth her weight in gold. She got her first big break during a birthday celebration for the Head Pastor of her church, Salvation Ministries. Pastor David Ibiyeome. (She doesn't say when.) Getting a chance to get up on that big stage in a massive auditorium and deliver her piece shot her farther up than she'd expected to be at that stage.
As she went on, however, she began to realize something about life.
"People don't care how much you know until they know how much you care." She repeats these words to herself and to everyone who cares to listen. They're words she lives by.
Mary Remarkable Foundation was established and registered in 2015. It currently supplies rural areas with educational supplies and has twenty pupils (and counting) on full scholarships. The foundation also recently held a medical outreach which was able to care for 204 people. Sensitization programmes are also being held for young girls against teenage pregnancy.
The Foundation's biggest project, however (as at the time of writing) is the building of two classroom blocks in Eastern Obolo L.G.A of Akwa Ibom state for internally displaced school children. These are massive projects for one so young, but she hasn't been fazed in the least.
"My first challenge was not knowing how to. When I knew how to, the challenge I began to face was lack of funds. But then, I'm not desperate for anything. If I can do something, I'll do it. If I cannot do it, I'll stay back."
And do something she has.
"One of the things I hope to do is make sure our educational system is of standard. Nigeria is where we are because of our educational system…
"If you look at developed countries today, it's not that they have the resources more than we do. If you look at their educational system, the platform that educates their mind, that prepares them for the future, it is well equipped. So one of the things I hope to do through my NGO is to create more educational opportunities for young people."
Miss Remarkable has gotten to speak at youth seminars all across Africa. In July 2018, she was invited by the United Nations to represent Nigeria at the International Human Rights Summit in New York. An opportunity she had worked hard to get. Failure to get a visa, however, stopped her from fulfilling a long time dream. After some time of sulking, she is now looking forward and has applied for the Mandela Washington Fellowship.
A proud self-proclaimed feminist who believes feminism is "a struggle for equal opportunities between the male and the female, politically, economically, socially and legally." She believes that the view of feminism shared by the majority of the populace is warped and wrong.
"Feminism should be a fight for all humans. Not just women."
She also believes that feminism should in no way affect submission in marriage as this is a God instituted institution.
Miss Mary loves animations. Listening to her talk about Coco and Moana, for instance, reminds you that in more ways than one, she still retains her childlike spirit. She is also very private and prefers to spend her "alone time" alone.
She preaches sexual purity and, according to her, she has never dated. That would seem surprising to most (I can't lie, it does to me) but at twenty two, she believes she is still in the process of finding herself. She believes relationships are for when that process is complete for both parties involved. According to her, relationships are not for fun. They are for people who are getting ready to build a life together. This, along with abstinence is what she teaches to young people. Most in the 21st century may not agree with her, but this writer does. Completely.
Our Iron Lady has risen through adversity, in a Third World country filled with injustice, ineffective administration, and unequal opportunities. She has stood head and shoulders above her peers. Will her star keep shining even brighter?
Who knows?
Maybe one day our Iron Lady will reach heights unimaginable. Heights that the great Margaret Thatcher only dreamed of. The whole world watches and waits.
40 DAYS OF AKWA IBOM (DAY 15): THE KIND ONES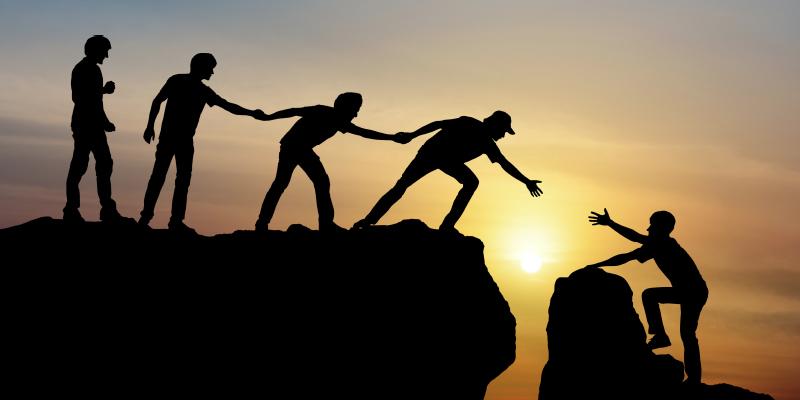 The average Akwa Ibomite is supremely kind!
This is not a statement of sentiment. It is not a statement of bias, Akwa Ibomites really are some of the kindest Nigerians I've ever gotten to meet.
On no day was this more evident than on a rainy day when I went to the market. A very dirty looking young man who was clearly mentally unstable came to meet me. He was hungry.
"What will you like to eat?" I asked him.
He held out the stick of smoked fish in his hand. He wanted to make soup. Soup would last longer.
He looked like someone who would readily use any money given to him to get drugs, and I really did want to help him. So I told him, "We have N800. What do you want to buy?"
We went to different parts of the market to get different condiments for his soup, and I was pleasingly surprised at the kindness that was shown to the young man.
Even though a lot of them made fun of him, things that didn't seem to get to him as he joked over the fun they poked, they gave him a lot of things in excess.
By the time the N800 was spent, I strongly believe there was food worth N1500, if not more in his small bag.
From the exchanges that occurred between him and the market women, It was clear that this was a regular occurrence. The only reason this young man was not dead or eating from trash yet was because people constantly cared enough to give him food everyday.
This is an aspect of Akwa Ibom that can be readily overlooked. It is an aspect of Akwa Ibom that I have to greatly admire in my people.
Until next time.
40 DAYS OF AKWA IBOM (DAY 13): AFIA EFERE (WHITE SOUP)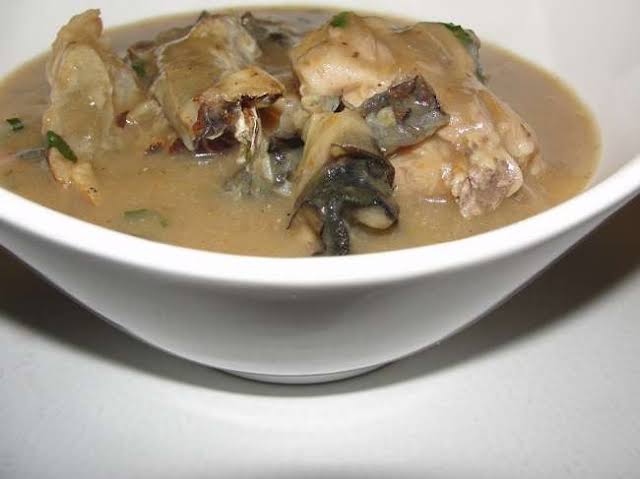 Hi there. It's great to have you back today.
If you've been following the series, then you know that today is Day 13/40. If not, take some time to catch up here. You'll be glad you did.
So let's dive in.
When was the last time you ate something GOOD? Not basic. Not boring. A meal that actually left you smiling in content while rubbing your tummy and wishing you could start over again.
Can you remember?
If you can't, it's alright. I'm here for you okay? I care about you and that's why I'm about to share a recipe for the best thing in this world. Afia Efere aka White Soup (aka the love of my life. Sorry Afang!)
Afia in Ibibio means White, although the soup isn't white per se. It's actually quite brown if we're being honest. It is thickened with chunks of white yam and the absence of palm oil also contributes to the overall afia-ness(I just made that up), of the soup.
Although similar to the Igbo Ofe Nsala, it differs by it's more aromatic taste due to the use of ingredients like uyayak and ehuru.
Try out this recipe, then come back to the comment section and tell me how it turned out. I'll be waiting okay? Don't spare any expense when you're making it. Buy as much meat and fish as possible. Enjoy yourself. Problem no dey finish.
RECIPE.
Ingredients.
Chicken/Beef/Goat Meat
Yam sliced into small chunks
Uyayak pod(aidan fruit)
Ground Ehuru/Calabash Nutmeg(optional)
Cameroon pepper
Smoked/Dry Fish
Ground Crayfish
Salt
Seasoning cubes
STEPS.
Wash meat thoroughly then transfer to a pot. Debone fish, wash and add to the meat. Add salt,pepper and seasoning cubes. Steam for a few minutes then cover with enough water and boil.
While meat is boiling, cut the yam into small chunks and wash. Boil in a separate pot until it's soft
2. Wash Uyayak pod to remove any dirt. Slice it and add to the boiling meat and fish. Add ehuru in small increments so that it doesn't overwhelm the taste of the soup. Put in the ground crayfish at this point and more seasoning and pepper if necessary.
Make sure you add enough water but not so much that it becomes watery. If you want thicker consistency, use less water and more yams.
3.Add cooked yam to soup and boil until you achieve the consistency you like. I like to use a spoon to cut through the yam pieces and mash them to make the soup thicker.
Re-season if necessary. Remove uyayak slices.
And just like that, your soup is ready.
I prefer to eat this with fresh pounded yam but since I detest manual labour, I use the powdered substitute or fresh fufu.
Thank you for sticking around till this point. Until next time, stay healthy y'all!
40 Days Of Akwa Ibom (Day 12): Mama Topiem; The Trainer Of Trainers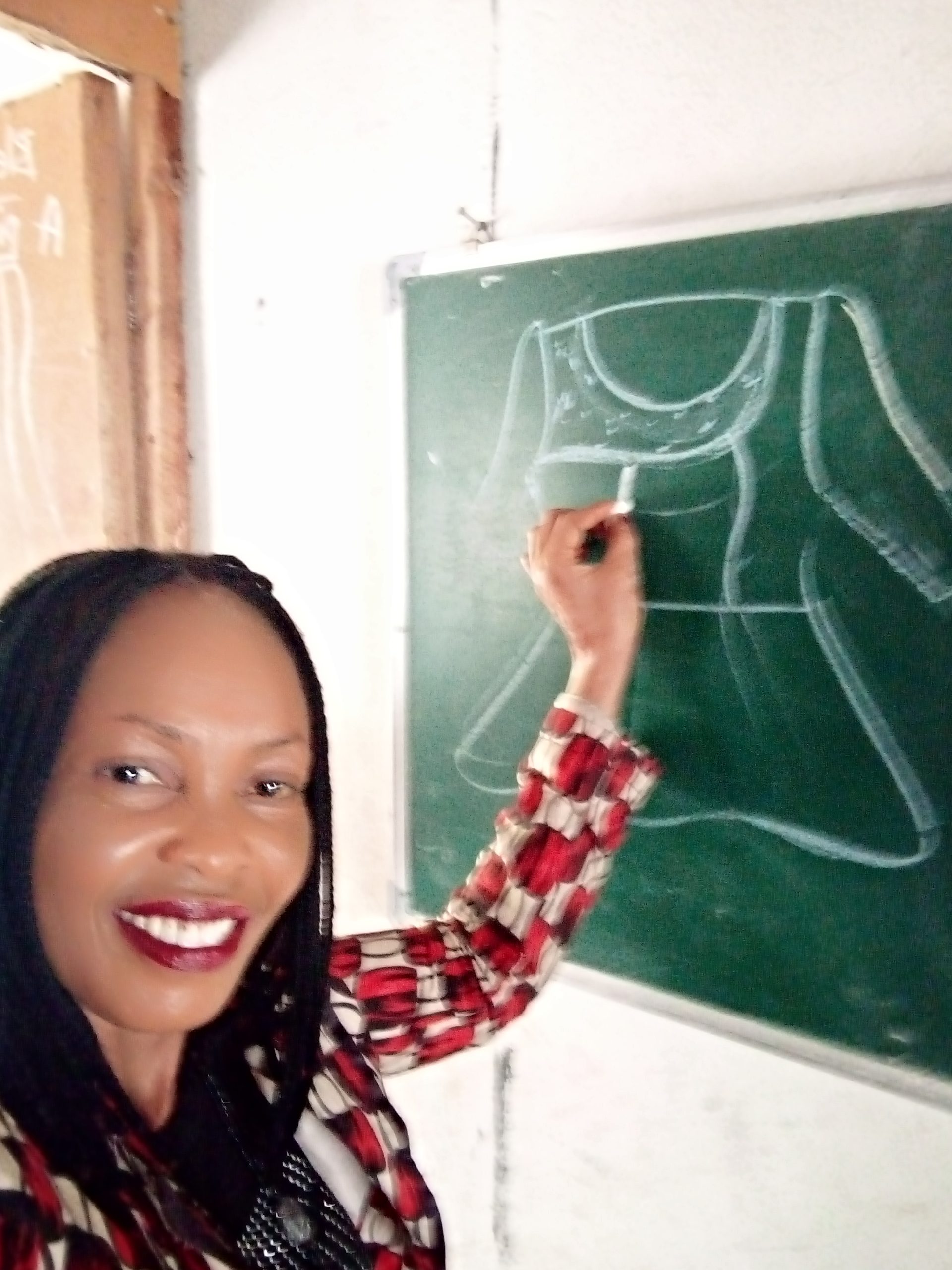 A journey from adversity to recognition is probably one we have heard of a million times. It is also the kind of story we can never seem to get enough of. The underdog story inspires. it makes us believe we can be more than we are. The journey of Mrs Emem Festus Awodein (yes, she's an Akwa Ibomite) is one that has seen it all. It is unfortunate that not everything can be shared here, but I hope you enjoy the parts that we actually can share.
Dise Akwa Ibom: Please tell us your name Ma.
Mrs Awodein: Okay. My name is Emem Festus Awodein.
Dise Akwa Ibom: Please tell us about yourself.
Mrs Awodein: I am the CEO of TOPIEM FASHION AND DESIGN here in Ikot Abasi. I am a fashion designer. I started my life at a very young age. I left home due to some financial situation. I came here (Ikot Abasi) when i was 19. My mother was a seamstress, so I got the knowledge of sewing from here. When I came here, I started with sewing children's wears and from there, i graduated to whee I am today. I am a mother of three, even though i lost my husband, I'm a widow, but with the help of this work, I've been able to train my children. My first daughter is in the University, the second one is in secondary school and the last one in primary. So, I have been able to train over a hundred plus people in this town and by the grace of God, I got contracts from various companies like TOTAL. I'm one of the trainers there. I am a one time treasurer of AKWA IBOM STATE TAILORS' ASSOCIATION.
Dise Akwa Ibom: So Aunty, how are you able to balance family life with your business?
Mrs. Awodein: Okay, in that aspect, I have workers with me, but i also have to be at the shop between 7:30 and 8:00 (am) and then I will work till 6:00 (pm) and then close so that I can meet up with some home activities. With my workers at the shop, I have those that I'm paying and those that are working as trainees. My children, some are in boarding school. When they come back, they always join me. All my children can sow. With that, I think I'm able to attend to my family and at the same time satisfy my customers.
Dise Akwa Ibom: So Aunty, about your business, what are the challenges you faced when you started and what would you advise young people today that are going into business for themselves.?
Mrs Awodein: The major challenge I have faced in this skilled job is having to depend on customers for my daily income. Unlike the salary earners who are certain of their pay, our work most times is left to chance. At some point, it seemed to me that I was living a hand to mouth life. My advice to young people going into skill related businesses is to invest in products as well as services. That way they don't have to depend too much on collecting more work than they can actually do and having to lie to customers.
Dise Akwa Ibom: Aunty, do you have any future plans for your business? What's your vision?
Mrs. Awodein: I enjoy teaching a whole lot. For the longest time I have wanted to open a fashion school so that talented youths who cannot afford going to the higher institution are provided the opportunity to learn this skill. That will free me up to be able to better teach the people I get to train instead of rushing sometimes due to the urgency of some jobs.
Dise Akwa Ibom: So what are your favorite things about Akwa Ibom?
Mrs. Awodein: The dishes; I doubt there's any tribe in Nigeria that prepares better dishes than Akwa Ibom.
Dise Akwa Ibom: Do you have a favorite hangout in Akwa Ibom?
Mrs. Awodein: During the weekends, I especially enjoy chilling out in RichMan hotel in Ibeno, Eket. It is quite close to the beach and I love it for the beautiful view of the ocean.
Dise Akwa Ibom: Is there anything you will like to tell our readers?
Mrs. Awodein: I especially like addressing the youths so, to the youths out there, we are in an age where one can have a degree and remain unemployed hence, my advice is this, every youth should acquire a skill. It may seem irrelevant now but it will bear fruits in the future.
Dise Akwa Ibom: Thank you for your time Ma.
Mrs Awodein: The pleasure is all mine.
There's so much more about Mrs Awodein than meets the eye. She may be Yoruba by name, but she's Akwa Ibom by everything else. She has been actively involved in training more than a hundred and fifty tailors and seamstresses in Ikot Abasi L.G.A who have also gone on to train many more people. Her business is now 20 years old and for one who started so young and without prior formal training in design, getting to where she's gotten has proven how talented and how much of a stalwart she is.
Akwa Ibom people are strong. The people have been through a lot as a people and have survived. The future looks very promising for the Land Of Promise.
Until next time.