Collapse of Order at Akwa Ibom House of Assembly – the Complete Chronicle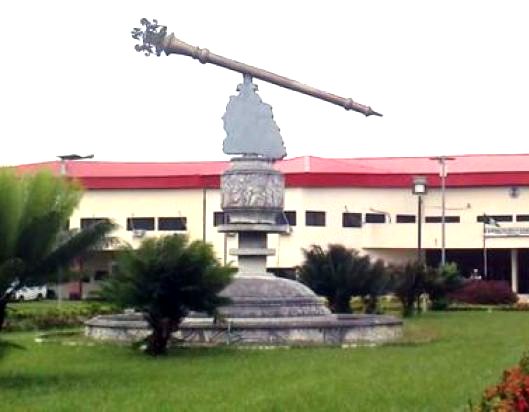 By Gabriel Bassey | dISe 
Akwa Ibom State which had always been reputable for political consistency owing to its one-party governance pattern is experiencing political convulsions at present. This manifested in form of an open clash involving members and the leader of the State's legislature earlier in the week resulting in the purported expulsion of five members, the demotion of the House Speaker amidst and against court orders, as well as unprecedented change of police Chief of the State.
The genesis of the whole drama has its roots in the decision of the House Speaker, Hon. Onofiok Luke to declare the seats of lawmakers in the opposition party vacant in an hour-long emergency sitting which took place on Monday. The Speaker justified his deed by invoking the authority of sections of the nation's constitution that warrant removal of public office holders upon their defection from platforms they were elected upon without tangible reason.
The affected lawmakers are Idongesit Ituen, Gabriel Toby, Victor Udofia, Otobong Ndem and Nse Ntuen of Itu, Etim Ekpo/Ika, Ikono, Mkpat Enin, and Essien Udim constituencies respectively.
An interesting twist in the development has been the issuance of a Stay of Execution to the Speaker from the same State Federal High court which had earlier on mandated the sack of Hon. Idongesit Ituen, the prime victim of the saga. This development which however took place two days after the Speaker's declaration has been dubbed by analysts as
an exercise of Federal might by the APC ruling party and an undue interference in the State's polity by the Buhari-led Federal Government.
According to the accounts of eyewitnesses who were on ground at the time of the incidence, as well as video footage circulating on media, tensions in the atmosphere distilled into physical combat when security agents, suspected to have been compromised to serve the interest of the Speaker and his ruling party(PDP), intercepted the legislators in question and prevented their entrance into the assembly complex to participate in the emergency session the Speaker convened by of use of force. This provoked a violent reaction whereby youthful supporters of the embattled lawmakers clashed with the police in a bid to whisk their principals into the assembly complex. On account of the battle, the State Commissioner of police was replaced with immediate alacrity by the IGP in accordance with "orders from above".
On their part, the APC lawmakers have dismissed the Speaker's declaration against them as invalid, and further slammed the PDP House Speaker and State Governor for assaulting democracy in the State by attempting to retain a one-party governance by mischievous means. The accusations were buttressed in a statement to journalists by Hon. Ntuen where he debunked the validity of the Speaker's action by highlighting the following;
The Speaker, Hon. Luke did not declare vacant, the seat of the first lawmaker who had earlier on defected from APC to his own party.
He did not follow due legislative protocol of being announced into the chamber by the Sergeant – at – Arms. Rather, he came in through a back door.
The House mace was not present during the sitting.
Several political geeks in the State have additionally criticized the speaker for being hasty. Typical amongst them is an excerpt from Facebook post of Ekemini Simon, journalist for The Mail Newspaper which reads thus; "Common sense should make anyone and most importantly a lawyer understand that after a judgment from a Federal High Court, there is also a room for appeal at the Appeal Court and as the case may be Supreme Court. When all these steps are exhausted, that's when execution is appropriate."
However, the embattled faction of lawmakers in a shocking move elected the member representing Essien Udim state Constituency, Mr. Nse Ntuen, as the new House Speaker in the evening of the same day they were sacked by Speaker Luke. As the validity of the move is still being debated in several quarters, the Assembly Complex has been reportedly blocked by the police till further notice on orders of the new police Chief—another stunt which many, particularly in the PDP, have decried as rascal impunity by a domineering APC Federal Government.
40 DAYS OF AKWA IBOM (DAY 14): FUN FACTS ABOUT AKWA IBOM
So, I saw this very interesting post by fratermathy on Nairaland that had been uploaded since 2016. The post made me extremely pleased to be an Akwa Ibomite. It made me realize there were a lot of things I didn't know about this beautiful state of ours and so I'll like to share the post with you.
1. Akwa Ibom State was created in 1987 due to the clamour by the upland people of Cross Rivers State. The state was created from Cross Rivers with capital at Uyo. At the point of its creation, the state was nothing to write home about. Poverty, illiteracy and lack of infrastructure abounded. Akwa Ibom State was one of the worst states in Nigeria by the 1990s. Things are different today as we have all seen.
2. Akwa Ibom State is one of the few states in Nigeria that doesn't operate a one-city system
Most Nigerian states have just one large city which doubles as the capital. Akwa Ibom State has about 3 cities which are self sufficient and buoyant. The major cities in Akwa Ibom State are Uyo, Eket and Ikot-Ekpene.

a. Uyo: This is the capital of the state and it occupies Uyo L.G.A, parts of Itu L.G.A, Uruan L.G.A and Etinan L.G.A. It is a very organised city with beautiful structures and a highly diluted population. The city center is known as Plaza and it connects all the major roads in Uyo; Aka Road, Abak Road, Ikot Ekpene Road, Barracks Road, Nwaniba Road and Oron Road. Some of these roads are very beautiful and have trees planted over the sidewalks for aesthetics. Uyo is home to the University of Uyo, several private polytechnics and monotechnics. The high brow residential areas are Ewet Housing, Shelter Afrique and Osongoma Housing Estate. Uyo has a museum, several shopping malls, a cinema, 5 star hotels, golf club, night clubs and many more.

b. Eket: This is the second largest city in Akwa Ibom. It is an oil city like Warri and Port Harcourt, although it is much smaller than the aforementioned. Eket is home to Exxonmobil. Eket is situated in the coastal end of Akwa Ibom State and it occupies Eket L.G.A. Cost of living in Eket is expensive and the city is undergoing a major face-lift lately. Eket is home to several polytechnics of which the most prominent is Heritage Polytechnic. Eket also has a lot of hotels and night clubs.

c. Ikot Ekpene: Ikot Epkene is the third largest city in Akwa Ibom and it is located towards the Eastern region. It is a transit city between Uyo, Calabar, Aba and Umuahia. Ikot Ekpene is a commercial city with active and booming business activities. It has good roads and infrastructure and a city center which is also a plaza. There is also a 5 star international hotel at the city center called Four Points Hotel. Ikot Ekpene is home to a university and several polytechnics/monotechnics.

Other major towns in Akwa Ibom include: Ikot Abasi, Oron and Abak.
3. There are 3 major mutually intelligible languages spoken in Akwa Ibom State. These languages are spoken in the three distinct Senatorial Districts of the state.
a. The first is pure Ibibio which is spoken in Uyo Senatorial District. This language is understandable to all Akwa-Ibomites and Efik people. It is the street language of Uyo.
b. The second is Eket (Ekid) which is spoken mainly in Eket Senatorial District along with Oron (and another language spoken in Eastern Obolo which is not intelligible to other Akwa-Ibomites called the Obolo language). This language is deeper than Ibibio. It is the street language of Eket City.
c. The third is Annang which is spoken in Ikot Ekpene Senatorial District. This language is clearer and closer to Ibibio than Eket based languages. It is the street language of Ikot Ekpene city. Its reach extends as far as Abak, a town barely 10 minutes away from Uyo city.
4. Akwa Ibom has one of the best network of roads in the whole of the South South and arguably Southern Nigeria at large. The roads are well paved with standard markings, walk ways and gutters. In the cities of Uyo, Ikot Ekpene and Eket, about 80% of the streets are tarred and connected with each other. The roads are clean and well maintained. Even the highways are not left out. Highways in Akwa Ibom State are well maintained and paved. There is at least one good road to every major village and town in Akwa Ibom State. One can only appreciate the state of roads in this state when compared with other oil producing states in the country.
5. Akwa Ibom State has one of the highest numbers of polytechnics/monotechnics for any Nigerian State. The whole state is saturated with various polytechnics and more are springing up everyday. Some of these polytechnics are very good.
6. Akwa Ibom State has one international airport and a deep seaport. There is no rail line in Akwa Ibom yet so the major means of transportation is by road. Kekes (tricycles), okadas (motorcycles), mini-buses and buses abound in the state. In Uyo, Kekes, minibuses and buses are the main means of transport. Transportation is very cheap across the state due to good roads.
7. The name Akwa Ibom is derived from the Qua Iboe river which runs across the state with origin from the Umuahia Hills through Ikot Ekpene to Eket, emptying into the Atlantic ocean. There is also an indigenous church in the state that uses this name as well, the Qua Iboe Church. This is one of the most popular churches in the state and it can be found in almost every community.
8. Akwa Ibom State is very corper friendly. Youth corps members are paid well and treated nicely and with respect. Prospective corps members usually lobby to be posted to Akwa Ibom state in order to have peace of mind.
9. Akwa Ibom State has a very low crime rate. Highway robbery which is common in Southern Nigeria is almost non-existent here. Armed robbery is at its barest minimum. Pilfering is exceedingly low. Security is tight in the state. In Uyo for instance, every major street has a police van on standby for emergency. Akwa Ibom is a state where you can do business with closed eyes and I am not exaggerating. These people don't like taking what belongs to others.
10. Akwa Ibom people are one of the neatest (if not the neatest) people in Nigeria. Together with the people of Calabar, they exude a form of cultural neatness I have not seen elsewhere in Nigeria. Their cities are well taken care of. In Uyo for instance, all the streets and highways are swept on a daily basis. Litters are very few and road side dumping is almost non existent. While this may be a generalisation, it is important to stress that the people of this state do not actively entertain a dirty environment. Even in places that ought to be slums, the degree of environmental pollution cannot be compared to major cities in Nigeria.
11. Akwa Ibomites are one of the most stereotyped Nigerians. This is mainly due to the "Akpan" and "Ekaette" factor. Most Nigerians believe that Akwa Ibom boys are mainly good as houseboys and their girls like sexual activity. While I am not saying that this does not exist entirely, it is important to note that this is nothing more than a stereotype. Akwa Ibom men are normal Nigerians who want the good life, sometimes without even working for it.
Akwa Ibom women are VERY VERY BEAUTIFUL in all sense of that word and they are well endowed but the stereotype of prostitution and sexual agility is not particularly true. Most prostitutes in Akwa Ibom are not even from the state. Girls don't go round in the state looking for boys to sleep with. Licentiousness and immorality is greatly shunned at due to the highly religious nature of the people. In fact, Akwa Ibomites are one of the most religious people in Nigeria. They like Christianity more than food. So if you are guilty of stereotyping Akwa Ibomites as dull servants and nymphomaniacs, please think again! Gone are those days!!! The average Akwa Ibomite can and will surprise you.
That's the end of that post about Akwa Ibom people. What did you think? Could this all be true? Come to Akwa Ibom State and find out.
Akwa Ibom 2019 Governorship Tussle: PDP Reserves Flag for Udom
The leadership of Akwa Ibom State PDP have customarily chosen to field only the incumbent governor, Deac.Udom Emmanuel for it's Governorship slot. The decision, according to party leaders and stalwarts, is to maintain consistency of their zoning agreement.
Being the incumbent State Governor, Deac. Udom is undoubtedly a popular political figure but that notwithstanding, he will have to convince the people of the State of his qualification to be re-elected in the office he presently occupies otherwise be replaced by the APC candidate who equally presents himself for election.
On this account, we review Deac. Udom as follows
Background and Family Life
52-year-old Deac. Emmanuel hails from Awa Iman in Onna Local Government of the State where he served in leadership capacity first time as Sunday school coordinators at United Evangelical Church (QIC) (formerly Qua Iboe Church ).
He is happily married, with kids, to Martha Udom Emmanuel. He is a serving deacon of
United Evangelical Church (QIC), Nigeria where he and his family worship
Educational Qualification
Deac. Udom attended Secondary Commercial School, Ikot Akpan Ishiet, Onna LGA of
Akwa Ibom State.Thereafter, he went ahead to acquire Advanced Certificate of Basic Studies (CBS) and Higher School Certificate (HSC) from School of Arts and Science, Uyo, Akwa Ibom State.
Furthermore, he earned a bachelor's degree in Accounting from the University of Lagos far back in 1988.
He is a Fellow of the Nigerian Institute of Management and also undertook an Advanced Management Program at INSEAD, France.
Professional Experience
Prior to his assumption of office as State Governor in May,2015, Mr. Emmanuel had previously served in crucial leadership positions including; Audit Manager, Price Waterhouse Coopers, Chief Financial officer of Zenith Bank Plc. and Group Head of Income Optimization, Financial Control & Strategic Planning Department at Zenith Bank.
He is an associate of the Chartered Institute of Taxation of Nigeria.
He served as General Manager of Zenith Bank Plc. He joined Zenith in 1996 from Diamond Bank Limited and was the pioneer manager of its Lagos Central Branch. He was in charge of the Telecommunications Sector, Income Optimization and Financial & Strategic Planning Group of Zenith Bank Plc. He has over seventeen years of financial services experience. He served as an Executive Director of Zenith Bank Plc.
Political Relevance
Mr. Udom's switch from the banking sector was warranted by his appointment as Secretary to State Government in July, 2013 by the then Gov. Godswill Akpabio.
In 2014, he aspired for the governorship of Akwa Ibom State in on the platform of PDP where he contended in a tough tussle with 22 other popular aspirants to emerge as the candidate of the Akwa Ibom State People's Democratic Party (PDP). His slogan for canvassing the support of the Akwa Ibom populace by then was, "Udom is Right."
After winning with the election 999,071 votes to defeat APC's candidate Umana Okon Umana who scored 89,865 votes of the All Progressive Congress(according to INEC), he was sworn-in as Governor in May, 2015.
So far Udom has played host to coordinators of several sectors of the state who in-turn have assured him of supporting his election bid, however, his opponents in APC who are exerting so much influence to topple him are equally enjoying the support of an ever-growing percentage of the State's populace.
The massive growth of the APC portends the reality that Akwa Ibom is no longer a one-party state and as such, unlike previous occasions, the PDP candidate this time around Deac. Udom will not enjoy a smooth ride to the Hilltop Mansion.
On his part, Mr. Udom is standing by his promise of delivering his five-point agenda and as such has not altered his initial manifesto which he promised;
★Wealth Creation
★Economic and Political Inclusion
★Poverty Alleviation,
★Infrastructural Consolidation and Expansion,
★Job Creation