Top Audio Recording Studios in Akwa Ibom State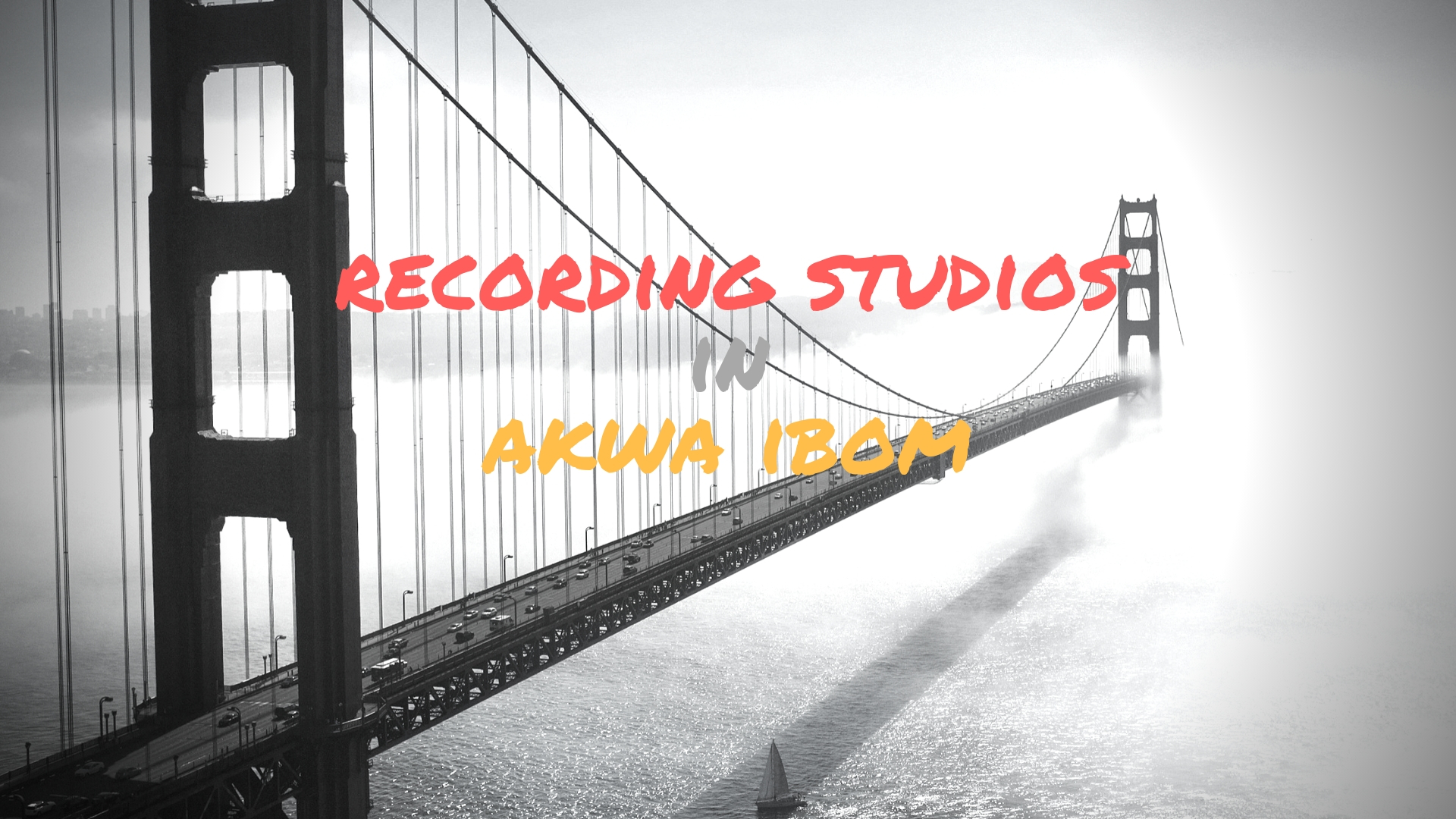 Top Audio Recording studios in Akwa Ibom State that have served different purposes including music recording, professional mixing, and mastering.
Here is a list of affordable audio recording studios in Akwa Ibom for music production, voice over, jingles, demos, vocal training, mixing and mastering.
NECTAR STUDIOS
Ikot Ekpene road, Uyo
+2349055737845
Nectar Studios(Fb)
LIFETONE STUDIOS
+2348023174937
Ikot Abasi Road Uyo
LifetoneGroup (Fb)
SAVAGEMIX STUDIO
Odiok itam, Uyo
+234 818 513 9539
Gerald Esenam (Fb)
@StaRRy_4Millz( twitter/ IG)
HANNY HOUSE STUDIO
10 Ewet Street, Off Oron Studio
Uyo
HannyHouse Entertainment Limited (Fb)
PENIEL STUDIO
Wellington Bassey way (former barracks road) Uyo
HIT FACTORY STUDIO
Nsentip Street by Abak road, Uyo
MELODY RECORDING STUDIO
Nwaniba Road, Uyo
+2348081002624
Melody Recording Studio (Facebook)
Top Five Hit Songs in Akwa Ibom So Far in 2018
EMCLAZ STUDIOS
Oron road, Uyo
+2347089895665
AUDIO FACTORY
Paul Bassey Street, Uyo
+2348067193055
Global Audio Factory Nigeria (Facebook)
MAGIC BEATZ STUDIO
#12 Ikot Udoro Street,
Off Ikot Ekpene road, Uyo
ENNGIN STUDIO
Itu road. Uyo
FINAL MIX STUDIO
Udosen uko street, Uyo
DEEP SOUND STUDIOS
#18 High tension Road, Off Four lane, Uyo
+2347065946824
Deep sound studio, Kemzy Music(Facebook page)
IG: Kemzy record
Twitter: @kemzy amos
FAME RECORDING STUDIOS
Udo Usanga Street, Off Urua Ekpa Road,
Uyo
LE CREATIVA GALLERIE
#1 Kelvin Street
Off Aka Road Uyo
CENTURIES AND AGES
#6 Ekpanya Street Uyo
Off Ikot Ekpene Road
ABM STUDIO
+233 268590709
L'S COURT STUDIO
+234 8039660683
SOUND FACTORY STUDIO
#14 Umoh Street Eket
+2348104100264
RAFFIA STUDIO
#7 Ukpong Inuen
Ikot Ekpene
BAD BOIE MUSIC ENTERTAINMENT (BME)
Afaha offot, Uyo
B.I.G AUDIO STUDIO
#23 Nsasak street Uyo.
SPARKZTAKRAVTSOUNDS STUDIO
Okon Mbaba Street, Off Ikot Ekpene Road
@1NeroSparkz
08181788582
And many others!!!
Bonero Cakes And The Rise Of Cakemania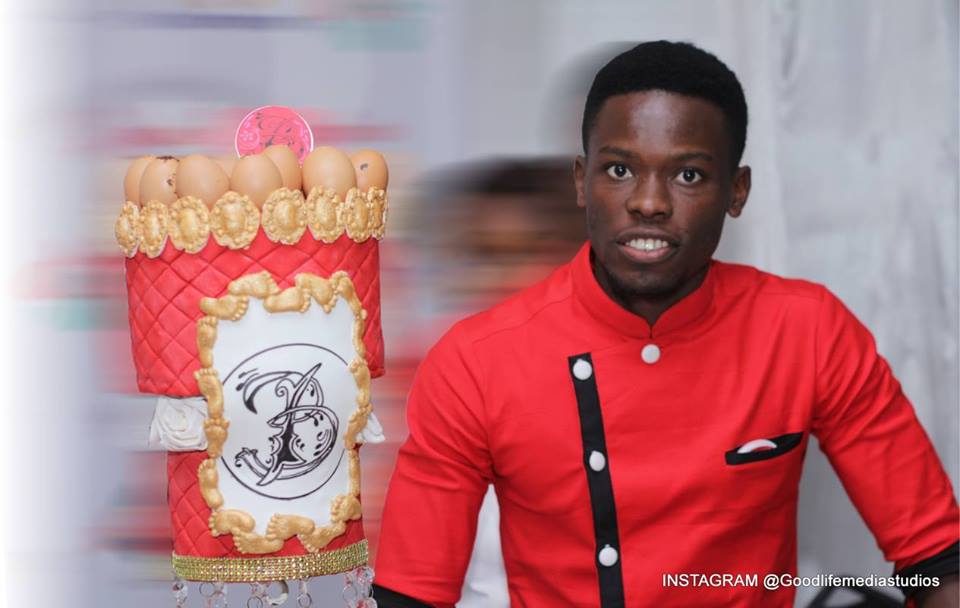 When an Electrical Engineering graduate becomes a Cakemaker, sparks are bound to fly. I thought I had seen cakes until I saw Bonero's. Mr. Unyime Bassey is the owner and CEO of Bonero cakes.
A graduate of the department of Electrical Electronics engineering of the University of Uyo, he is a perfect example of the saying that what you study in the University doesn't necessarily determine what you'll do for a living. Hailing from Ibiono Ibom L.G.A of Akwa Ibom state, he started making cakes in 2009, immediately after secondary school. An errand boy for his mother who is a "hobby baker," he delivered his first cake in 2012, a year after he'd started the University.
When asked in a recent interview with Samuel Maurice about how he ended up diving into cakes, he replied.
"Did I dive into cakes? I'd like to say I dived into engineering. If I knew (then) what I know now, I think I would be doing cakes all my life. I love engineering of course. Engineering is creative, amazing, but I love cakes, not just because of money. It's kind of a passion to me because I create stuff with my hands and I make people happy everyday of my life… So I didn't dive into cakes. I went into the industry because of passion and that's what has kept me."
Being the futuristic, forward-thinking person he is, he already saw himself delivering thousands of beautiful, tasty cakes, hosting amazing shows and empowering people when he was still an amateur who didn't even have enough money to purchase an electric oven. This characteristic in himself is what he wishes to see in many others.
Bonero wasn't always his first choice for a company name. In fact, it wasn't even an original nickname. It had been given to his elder brother in secondary school. When he got admitted into the same school, it automatically got transferred to him.
J Bonero (Junior Bonero) everyone called him. A name that stuck (without the J of course) long after he'd left secondary school. As an amateur baker without any real company or even a hope of one, every cake he made and delivered was automatically tagged a Bonero cake.
And so when he tried to start a company with the name 007 Cakes (due to his love for fast cars and the James Bond movies) after it had become obvious to him that he had a future in cakes, he couldn't. No one would let him. Bonero cakes had already become a brand. So in the end, he gave in and went with it.
"The motto of our company is Bringing Thrills To Your Taste," he likes to say. A motto that everyone that has ever seen and tasted his work agrees is well deserved.
Bonero cakes didn't start without it's challenges. It had its fair share of ditches and pitfalls. (Maybe even a little more than its fair share.) The first of these was family.
Who becomes a baker when their school fees is paid for them to be an engineer instead?
Like… Really?
The family didn't like the idea of combining baking and school at all. They felt (and correctly so) that baking would become a big distraction. Over time however, passion shined through and the family, seeing this, finally had peace.
Another challenge was what the young CEO termed "The Nigerian Factor."
"Power supply, bad roads…" he went on to explain.
"So you do a very cool cake and it spoils on the road. Just because you're leaving the house to go outside, your cake is gone. You know? So, bad roads, light. I didn't have an oven so I had to bake with my stove. It's a long story, trust me. But I tell my students that I delivered a lot of wedding cakes with a stove. Bakers out there, you understand what I'm trying to say. Where you're trying to bake a five-tier cake, and you're baking one after the other with a stove. So a stove would take four to five hours to bake one big tier of the cake. Meanwhile, somebody else has spent three hours to bake (the same cake)."
He talked about a lack of workspace early in the business, and the experience of being looked down on due to his age and seeming inexperience.
"Pricing also was a problem," he said, "because you walking in and pricing (haggling over) the cake, telling this guy, the cake is a hundred and twenty thousand (naira) and they look at your shoes.
"'Are you going to take sixty thousand (naira)?'
"Ok. I'll take it. So those were major challenges for us."
He went on to share one of his most devastating experiences in the cakemaking business.
"I had this cake, a very huge cake. And uhm, I finished the cake. I think I worked on that cake on my birthday so it was exciting for me. That was in 2016. So I worked on that cake on my birthday, so you can imagine that friends will be calling, text messages will be rolling in as you're working, so it was fun. Trust me, I loved it. But after doing that cake, I realized the next day, the cake couldn't come out of my room. First disaster. It couldn't come out of the room. I would either (have to) break the door or start afresh… So the next day I worked afresh on that cake. Now the next day, after working, uhm, that was a Thursday (first cake), Friday morning, we reworked the cake. Saturday was delivery and on the way to deliver that cake, I had an accident because of the bad road. So some parts of the cake fell off and so I had to go to work the cake again at the wedding venue."
As a young baker, experiences like those were not so uncommon but each new one came with a lesson.
His favorite cake he says, was his sister's wedding cake. Made in April 2016, it was an eleven tier beautiful monstrosity of about 4.5 inches per tier, with three cake separators of about 5.5 inches each. He poured his heart and soul into it, he says, and the smile on his sister's face was worth all the painstaking hours he spent on it.
He tried to make the cake again for an exhibition but gave up at tier number eight. According to him "passion finished."
Even though she was family, he treated her as a client and made sure the work was perfect. He does this with all of his family members who commission him to bake them a cake. (He does show a little favoritism though with the price when it's family but then, who doesn't?)
Cakemania 2018, a cake show/contest the baker himself hosted which featured a congregation of bakers old and new, experienced and inexperienced, amateur and professional. It was born of a desire to bridge the gap between wannabe bakers and those already established in the field.
In Mr Bassey's own words,
"Cakemania was as a result of what I passed through in the cake industry. I was a very young guy. I am a young person still, but imagine when I started 6 years ago, I was way younger. And I faced a whole lot… So Cakemania came as a result of the things I passed through when I started. People didn't believe in me. People didn't believe I could deliver. Why? They're not seeing me do stuff. They're not seeing me do gigs, because of course I didn't have a platform.
"How will you see that I can do a ten tier cake when you don't give me the contract? So, Cakemania came as a result of me trying to bring these young guys and putting them on a platform to showcase that they can do it. And also Cakemania came as a result of trying to bring mentorship to these younger guys. One of the reasons I suffered was because I lacked mentorship."
Mr Bassey did eventually get a mentor. Mr Eso Effiong Eso. Someone he looks up to a lot. Who always has something to say to him with each step he climbs, up the cake industry.
"Bonero cakes gave birth to Cakemania. But Cakemania, by God's grace, has been able to stand on its own and is its own brand. Cakemania is now promoting Bonero cakes even if Bonero cakes is the father to Cakemania. Both of them are okay together and there can never be a conflict."
Cakemania has had its own challenges. In addition to a lack of belief in the project, there was also a lack of support. Over four million naira was spent on the show and so funding was also a challenge. Sponsors ( one of whom was Mr Bassey's mother) contributed a great deal to offset the bills that would otherwise have proved an insurmountable obstruction.
Another challenge faced was the problem of pledgers backing out of the show two days, a day, even thirty minutes to the event. Some that actually showed up compromised in some degree. Some more than others.
Even with all of these, the show was an amazing success with contest winners going home with huge sums as well as cake mixers.
A few tweaks would be needed to make the next edition in 2019 an even greater success. Before this though, a VIP dinner/magazine launch has already been scheduled for the 5th of October 2019. This is to appreciate sponsors, participants and supporters as well as help promote Cakemania's across Nigeria.
Another thing Cakemania 2019 promises to do is show off even younger bakers (kids and teen bakers). "Big bakers" will also be brought in to train the young, inexperienced and amateur ones.
When asked if he wasn't bothered about the fact that he was raising and training future competition, Mr Bassey, classy as ever, revealed a lot more about his personality with his reply.
"I can never stay in my comfort zone. I hate it. When I do (stay in my comfort zone) I feel like I'm sleeping. Like I'm sleeping on top of a bicycle (that's moving). So, I see it more as a healthy competition. In fact, my dream is to see these guys do better."
What stands Bonero Out?
Creativity.
Even with a lack of big expensive gadgets (at least for now), Unyime Bassey has shown himself to be someone who can thrive. One who seduces the eyes and stimulates the imagination with an exciting array of colours, designs, and concepts. This has caused people all over Uyo and Akwa Ibom in general, to fall over themselves, gawking at his masterpieces. To put it simply, everyone is just in love with Bonero right now.
The rise of Bonero is a story of triumph over adversity. Of a willingness to give up so much for a dream. The story of an ability to entice the world with sights that dazzle and tastes that titillate. The rise of Cakemania is looking like it will take a parallel path.
How far can this young man go?
How high can he climb?
From what this writer has seen so far, the limit looks high up in the heavens. And reaching it doesn't look at all impossible.
10 Indigenous Akwa Ibom Songs to Recreate Memories on September 23rd
Here is another moment of joy and celebration as, once again, Akwa Ibom state marks her 31st anniversary come September 23, 2018.
The annual event is a celebration of statehood, culture, unity, diversity, growth, as well an appreciation of core indigenous values.
In moments like this, the Akwa Ibom community gets to reflect on the series of events in the state and, as well, devise plans to chart a course of peaceful development for the future.
Here is a list of indigenous Akwa Ibom songs, a mix of the old school and new school, that vibrates throughout the nooks and crannies of the state — creating resplendent and joyful memories on a day like 23 September.
ETUBOM REX WILLIAMS — NSASAK
Etubom Rex Williams Philips popularly known as Rex Williams kept the Ibibio pop culture alive even before the creation of the state, Akwa Ibom.
Nsasak is from the album seven track JULIANA album released in 1975.
Most of the songs you hear on radio today, at traditional marriages, at burials, on the lips of chiefs, women and children are songs done by Etubom Rex (or influenced by him)
He was born in Etinan in Akwa Ibom State in the 1930s and started music in the Salvation Army as a Trumpeter.
After spending a year at Teachers Training College, he moved out to work at a radio station in Enugu before resigning to go into professional music.
His performances at hotels in Lagos got the attention of Sir Victor Olaiye who invited him to play in his band as leader — in 1960.
Etubom Rex Williams had Sir Uwaifo as a member of the band he led.
Etubom was a contemporary to fellow music icon Chief Sylvester Henshaw Inyang.
He has released albums like Juliana, Kudara Ederimbot and others.
His music was, and still is, a proponent of love, peace and happiness, as he is quoted to say;
"I thank God my music is popular abroad and has been released again in albums. I am grateful to God for that. My message to our people is to be happy. I am a happy man and that is what I play in my music."
MISH — AKWA IBOM AYAYA
This evergreen hit song is undoubtedly played repeatedly on every radio station throughout the day. It bounces everywhere on the streets through blaring speakers and hits the ceilings of different houses.
It tells the story of an Akwa Ibom indigene who returns home to discover a beautifully renewed state.
Mish, signed to KipinitReal Entertainment at that time, shot to fame via this song and gained the hearts of all. The cut was produced by Bad Bishop.
SIR WILKER — CHA CHA CHA
Sir Wilker is a well known musical figure in the state. The highlife Icon has multiple highlife hits to his name but CHA CHA CHA cuts out a major vibe.
It addresses the major issues in the society and, as well, gets everyone bobbing to the beats and boogieing to the sweet melody of the guitar.
Anyem Ufan was also a big hit by Sir Wilker.
UKO AKPAN — TEACHER AKU KPEP
Uko Akpan is unarguably a legendary music figure in the state. He has so many songs and albums to his name, some which are lost and some which he has forgotten.
He is the founder of the Uko Akpan Cultural group which performs cultural music at so many glamorous events.
Teacher Aku Kpeb is from the Album "The Best of Uko Akpan Cultural Group Vol. 1."
The video was published on YouTube on 20th October, 2015. Teacher Aku Kpep is always there to satisfy the yearnings of the people to cultural music.
ENO WILLIAMS — SEWOYOYOM
Eno expresses her love for Akwa Ibom in this song and invites tourists to the state. The proud daughter of the state highlights the greenery of the land from the infrastructures, to delicacies, to great people, to wonderful opportunities, etc
She proudly declares, "I love Akwa Ibom!" How about you? Do you love Akwa Ibom?
IKPA UDO — AME NWOD
Formerly known by the stage name Indigenous MaliQ, Ikpa Udo has successfully shelved out Ame Nwod as a hit.
He is loved for his ability to inculcate the Ibibio language into rap music thereby creating a different form of rap pattern for other acts to follow.
Currently signed to Maximum Disturbance Record label, Ikpa has been enjoying the major relevance given to him by Ame Nwod — a song that is all about the vibe.
ZILLIONS — SIKE DIANA
Sike Diana is a special dedication to the people of Akwa Ibom. Released to celebrate the 25th anniversary of the state, this song has been included in so many mixtapes in the state. It preaches Unity and togetherness.
Zillions raps in Ibibio and English buh decided to sing on the chorus which makes it more beautiful and catchy.
UKO AKPAN — TUM KERE
Enjoying another spot here on the list is Tum Kere by Uko Akpan from The Best of Uko Akpan Cultural group Vol.1 album.
This hit cultural song gives advice to religious leaders, politicians, youths and indeed everybody.
It doesn't fail to bring in the cultural craze where both old and young bend down to shake their waste.
MCGALAXY — SEKEM
Sekem by McGalaxy is one the biggest global hits ever to be put out by an Akwa Ibom Indigene.
The worldwide banger raked in Millions of views on YouTube and, in no time, became and anthem in Nigeria — at its release.
Coupled with the special dance step, Sekem by the King of new dance is a vibe.
MR XTO — AFO KEDI
The Singer and Voice Over artist is known for his contributipn in promoting the Afro-gyration sound in Akwa Ibom state.
Afô Ke-edi is a famous Ibibio love song and very popular in the state and the whole South South region.
Mista Xto, here, describes his lover" as the only one that gives his sleepless night and his feelings for her as the only thing that brings him happiness".
Published on October 31st 2006, over 56k views, the Ibibio RnB is the third track on the album WETIN released in 2018.
These songs and many more from arts like Uwemedimo, David Sunday, John Jima, Late King Zoro Boy etc form a rich musical heritage for Akwa Ibom State.
These songs can't help but flood back good memories.
Top Five Hit Songs in Akwa Ibom So Far in 2018
The year 2018 has been quite remarkable for the Akwa Ibom music industry, with the Unik Brodaz hitting it from all angles and McGalaxy dropping songs every now and then.
Danny P sweeps in with a banger, This is Akwa Ibom. The song raked in over a hundred thousand views on YouTube and, for such accomplishment, Lybra welcomes him to the "big boy's club."
From performances at shows to freestyle sessions to radio and TV interviews, to release of mixtapes, to massive comebacks and even petty beefs, there has been a lot of activity in the music scene.
Here are five successful hit songs that got everywhere buzzing in Akwa Ibom throughout the year 2018 and still.
AMEM — UNIK BRODAS
The song which was released November last year, 2017, gained momentum and exploded in the early parts of 2018.
The still raving jam is currently the biggest hit from Akwa Ibom, this year.
The duo of Ubon and Ndifreke went further to release visuals for it and have recently dropped another song, "Amedo-ready?" Let's see how it pans out.
STAY UP — DJ EQUALIZA
One of the heaviest musical collaborations this year is in the form of Stay Up by DjEqualiza.
The Hiphoprepresentative employs the services of bigwigs like Iceberg Slim, Lucy Q, Damayo and Phlow.
Featured on the remix are Raezy, Sojay, VjAdams, Lindirhe and Real Skillz. Stay Up receives repeated spins on radio stations throughout Nigeria and has been number one on PlanetFm's Top Ten Countdown for over a month. The cut is produced by Ckay.
FINE GIRL — MCGALAXY
Fine Girl has been a smash hit in the state and all over the country. It was number one on iTunes at the release with visuals raking in thousands of views on Youtube. In clubs,Radio s tations and in the streets, the Willisbeat produced cut is a massive wave.
THIS IS AKWAIBOM — DANNY P
Following the rave enjoyed by Childish Gambino's This is America, DannyP wasted no time as he dropped a cover — This is Akwa Ibom.
It got instant airplay on different Radio stations and could be heard everywhere in the streets.
The visuals got 100k+ views on YouTube.
K'USUNG — IKPA UDO
The indigenous rapper adds K'usung to his shelve of hit songs. Prior to release, K'usung was performed at the Ikpa Udo Live in Concert last year and later exclusively played on radio stations. At its final release, the jam is already a street wave and making its way to Clubs.
Be it at home or in the diaspora, laudable feats have been recorded by Akwa Ibom music artists.