40 Days of Akwa Ibom(Day 20) – Preshland Decor and Drinks: Breaking Limits During a Pandemic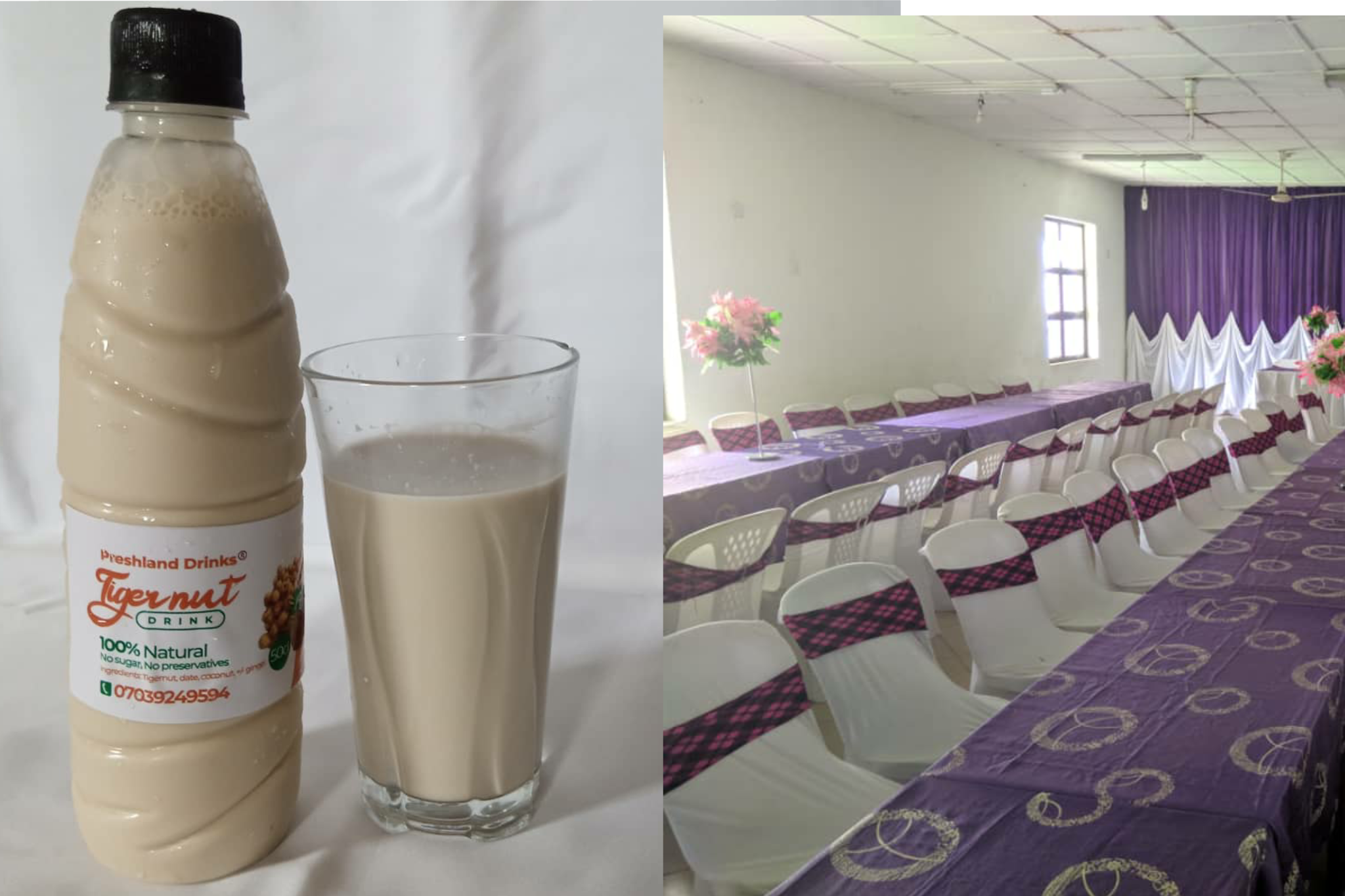 We caught up with the founder of Preshland Decor and Drinks and had a brief chat about his company's new Product. Read our conversation below.
Disé Akwa Ibom: Hello Precious. Thank you for taking out time to talk to me today. Let's dive right in.
Disé Akwa Ibom: Can you give us a brief history of your company?
Precious: So, Preshland is primarily a decoration and event planning company. The transition to tigernut drinks production happened out of necessity. As you know, when the pandemic hit Nigeria, social events were banned so business really slowed down for us. I had to do something to keep the brand going so I did some research and I found a market for healthy drinks in Akwa Ibom. That's how Preshland drinks was born.
Disé Akwa Ibom: That's wonderful. You were able to start up something at a time when things seemed so bleak.
Precious: I just had to keep us going you know? And people actually wanted a healthy drink that was produced under safe and sanitary conditions. It was easy to fill the need. In fact, I don't see the drinks and decorations as 2 different business. The vision is for our drinks to one day, be served at an event we organised or decorated for like a wedding or something even bigger.
Disé Akwa Ibom: So are you drinks really healthy?
Precious: Definitely. Our tigernut drinks contain tigernut (of course), coconuts and dates, which are blended together to form a thick and tasty drink that's PACKED with nutrients. Tigernuts have essential minerals, fibre and proteins. Their low fat content makes them a healthy alternative for people who are trying to lose weight or maintain a certain weight.
We don't add preservatives too so there's a 100% organic guarantee.
Disé Akwa Ibom: I've had the pleasure of tasting your drink so I know you're not exaggerating. Why don't you use preservatives though?
Precious: Preservatives are chemical additives that prolong the shelf life of products. Most of them are not organic as they are synthesized in labs. There's a saying that every chemical is a potential poison and that's true in this case. Preservatives can build up in your body and cause health problems eventually. Our drinks only contain ingredients that can be digested and removed from the body once the nutrients are absorbed.
Another thing is that studies have shown that the longer a product stays, the less potent the nutrients become. We want our customers to enjoy maximum benefits from our drink and that's why we want them to be consumed fresh.
Disé Akwa Ibom: Has the reception been good so far?
Precious: Awesome. Wonderful. Everyone loves our drinks. In fact, once most customers taste one,they keep ordering more.
Even with a little competition, we're still pulling a crowd because we don't compromise on our standard of production and quality. Every single drink reflects that commitment.
Disé Akwa Ibom: Can you share some challenges you've encountered?
Precious: The major problem we have would be the lack of constant electricity. Our drinks don't have any added preservatives because of our 100% natural gurantee, so to preserve them, they have to be kept refrigerated. Electricity is so unstable here and I've had some major product losses. A few weeks ago, a whole batch of drinks went bad. All the bottles had to be dicarded. It was a big loss for us.
Disé Akwa Ibom: That's so terrible. I'm really sorry.
Precious: Well, thank you. The good thing is that we can use ice now as a substitute for a refrigerator. Another issue we have is blending the nuts. We don't use commercial grinders because we're trying to maintain proper sanitary measures with processing and packaging. It's really important to me.
So, we use our own blenders but the nuts are hard and the blenders go bad easily. I've had to replace 2 blenders already but as the business grows, we'll purchase more durable blenders.
Disé Akwa Ibom: Do you have plans to other health drinks?
Precious: I do but it'll happen after we've solidified our market stance. We're focusing on the Tigernut Drink right now but later on we'll consider othee products like soymilk.
Disé Akwa Ibom: Thank you Precious. This has been a lovely interview.
You can follow Preshland Drinks on Instagram @preshlandtigernutdrink. Delivery services are also available within Uyo.
Mary Remarkable Foundation: Touching lives in Akwa Ibom State
Everyone desires good health.
On Sunday 11th July 2021, the Mary Remarkable Foundation did their quota to satisfy that desire for more than 400 residents of Onna LGA in Akwa Ibom State.
Arriving with a team of volunteers, doctors, and other medical workers, the foundation set to work immediately conducting eye tests and giving out prescription glasses to about thirty persons, as well as eye drops and medications to over 100 people.
Faces beamed with gratitude and joy and some of them voiced out their thoughts while showering praises and prayers to everyone at the foundation.
Without bias for age and gender, the foundation attended to over 400 persons, conducting medical consultation, medical tests, and community sensitization to all who came around.
HIV serology screening, Hepatitis B and C screening, malaria parasite tests, and Random Blood Sugar tests were conducted. Vital signs were checked as well as BP measurements and anthropometric evaluations.
Even when the weather became somewhat unfavourable, the team was not deterred. They doggedly went ahead to distribute medications including anti-malarial drugs, antibiotics, and deworming tablets to all who had consulted with the capable doctors on ground.
Eventually, the sun shone as though to give the outreach approval from above. This enabled the team to do more, giving out mosquito nets, insecticides, and sanitary pads to people who needed such.
Needless to say, the residents of Onna will not forget Mary Remarkable Foundation in a hurry.
The Mary Remarkable Foundation is self-funded with support from well-meaning individuals and organizations.
40 DAYS OF AKWA IBOM (DAY 19): IBOM PLAZA
When you search Google for tourist attractions in Akwa Ibom, you'll get a lot of recommendations but one place I'm sure will get mentioned frequently is Ibom Plaza.
You'll probably see descriptions such as, "a tourist paradise, sitting at the centre of the beautiful city of Uyo", or my personal fave, ".. there's an open theatre with water fountains within the plaza and a shopping centre".
Okay, guys. I have no idea what those descriptions are referring to but that's NOT the plaza I've gotten to know. Sure, it's at the centre of town and it's a business hub but a paradise it is not. I wouldn't want you to come here expecting one thing and up disappointed when the reality falls short. SO, I'll give you an honest review of the Plaza ,from a local's perspective.
First of all, there's no open theatre. There was one when plaza was commissioned in 2001, but it stopped being functional a long time ago. Now, we go there to SHOP. The shopping centre is the most functional part of the plaza.
The best things to buy there are clothes and shoes. They are cheap guys. I'm not exaggerating. You can get jeans for N500, pretty sandals and shoes  from N800-N1500, tops from N200 and above(i kid you not). Clothes for men are pricier for some reason. For the most part, you'll get new items but some are second hand but the quality is top notch.
There's something for every budget. Make sure you stop by and get something okay?
Shopping: Try to haggle as much as possible. Don't let them cheat you. Try to buy clothes in the evening/night because the traders bring down their prices as it gets darker.
Plaza really comes alive at night. There are a lot of bars within the park where you can get a hot bowl of goat meat peppersoup or nkwobi at affordable prices. Step that down with a cool bottle of Star Radler,(i don't know how you people drink beer),and you're good for the night. Or buy some suya from the Hausa men around the bars and enjoy with your friends. I used to have a personal suya vendor who would give me the tastiest cuts. He moved away and unfortunately never came back. Plaza suya is amazing. I can almost taste it as I type. I'm definitely buying some tomorrow.
For my ladies, you can buy drugstore makeup from a multitude of stands. I've bought several nice shades of lipstick there. Please don't buy foundation at night. I made that mistake once and….
Ibom Plaza is also a very good  landmark to use when you're trying to get from one point to another within Uyo. From there,you can get a bus going to anywhere you want or somewhere close enough. If you're ever lost in Uyo, get to the plaza and find your way. You can also ask anyone for directions.
The people here are very kind.
So, in summary, it's a great place to buy cheap stuff and enjoy some downtime with friends at night but it's not the most relaxing place to be. There are more relaxing spots around town like Ibom Resorts. I wrote about it here so check it out alright?
Akwa Ibom is a really great place to visit, especially if you're working with a small budget. I'll share more articles of fun places to visit soon but till then, check out our 40DaysofAkwaIbom series here.
Until next time. Bye!
40 DAYS OF AKWA IBOM (DAY 18): THE IBIBIO BIBLE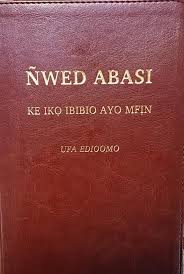 Yes! Yes! Yes! The Ibibio Bible is here.
This is probably old news to some of you who follow the news. For those of you who don't, you heard it here first.
On the 27th of August, 2020, the first ever edition of the Ibibio Bible translation was launched. This is different from the Efik Bible translation we all know ehich has been around for years.
The inauguration was attended by the governor of the state, Governor Udom Emmanuel, his wife, Mrs Martha Udom Emmanuel, as well as the first indigenous military governor of the state, Idongesit Nkanga.
A lot of work went into making this dream a reality and it included efforts from some of the foremost linguists in the state.
For now, only the New Testament is available, but I'm sure work is already going into making sure we have the entire Bible in Ibibio.
I guess I better start brushing up on my Ibibio.