40 DAYS OF AKWA IBOM (DAY 8): THE WORLD FAMOUS EKPANG NKUKWO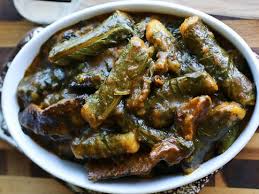 Quick Question…
What's my all-time favourite traditional meal?
Simple answer… It's Ekpang.
That must be the simplest quiz you have ever gotten to take right? Ironically, the meal itself is a tasking one to make. This is one reason why it tends to be reserved for special occasions like traditional weddings, etc. In fact, some books will claim that it was revered as the rich man's food. Some even go as far as calling it the food of the gods. That's how much it is revered where I'm from.
Ekpang Nkukwo (also sometimes called Ekwang Nkukwo) is a dish made with grated cocoyam, water yam, cocoyam leaves and periwinkle. It is a Nigerian food recipe native to the South South Eastern Nigeria, the Cross River and Akwa Ibom States of Nigeria. Remember I said Ekpang was tasking to make, I'm still going to take you through how it's done. Trust me, you won't regret it.
Disclaimer: Ingredients and Instructions along with accompanying pictures are from Dooney's Kitchen. You can check out her site at dooneyskitchen.com for more.
INGREDIENTS
Cocoyam leaves – you can also use vegetables with broad leaves like Spinach and Ugu
Cocoyam – 70%
Water Yam – 30%
1 tsp – 1 tbs of dry pepper – Cayenne Pepper or use fresh pepper
Ground crayfish
Mixed seafood – crabs, prawns, periwinkles etc
Smoked fish
Palm Oil
Salt
Seasoning cubes
Ntong – efinrin, scent leaf. (You can substitute with basil)
INSTRUCTIONS

Here are pictures of the type of cocoyam to use. It isn't the Eddoes specie that is used for thickening soups. This is sometimes called red cocoyam. It is longer, darker and bigger
Prepare the leaves. Here's a picture of cocoyam leaves. ( Cut it into strips as wide as your palm and as long)
Prepare the yam. Now, I will show you a trick someone taught me. Peel yam and any tubers with a potato peeler. Trust me it works, it is much faster too.
With your cocoyam peeled, peel the water yam too.
Please, I beg you, grate in a food processor, but if you don't have a food processor, use the normal grater.
Depending on how dry both yams are, you may need to add a little water to loosen it up a bit, otherwise your dish would be dry and stodgy. ( Remember to season your grated yam. Very important.)
Before you start wrapping though, oil the bottom of a pot and cover it with perwinkles, still in their shell. This serves as a barrier to prevent the wrapped parcels from sticking to the bottom of the pot.
Now you are ready to go. Using a tablespoon, scoop some of the grated yam unto the strip of cocoyam leaves on your palm. You may need to use less than a tablespoon, if the strip of leaf is not that wide, you don't want it to spill out too much.
Now, take the edge closest to you and fold over the grated yam.
Slowly roll away from you, until you form a cigar shape. It is expected that some of the yam should peek out from both ends, but not spill out, so as mentioned above, don't scoop too much.
Don't worry if you don't get it right the first time. It took me a couple of tries myself, and i still have more practice to go.
Place the wrapped leaves on the periwinkles and repeat the process until you run out of the grated yam mixture and leaves.
Add the smoked fish on top, the fresh seafood.
Add the ground crayfish
This can be done in no particular order really, but i finished off with dry pepper, more seasoning and water.Just enough to cook the cocoyam parcels, it is supposed to steam really, so don't drown it.
Cover the pot tightly, and let it cook on middle to low heat. I was in a hurry and used high heat, it burned a little. Don't make that mistake. lol
As it cooks, shake it around a bit to distribute the heat. I used a spoon to gently check if the cocoyam parcels have cooked, and the water was drying up into a thick paste. Once you start to notice that, top it off with chopped ntong (scent leaf, efinrin). They say you can even use Uziza.
and you are done.
The beautiful thing about this dish is that you can make it anyway you want with a wide variety of ingredients. It's why ekpang from different places tend to look different, depending on the ingredients available in that location. I was born and raised in Ikot Abasi, and so for us, seafood is king.
I've seen my mother also make ekpang from cassava, plantains, and bananas and so i guess with ekpoang, the only limit is your imagination.
This is where I'll leave you today.
ENJOY
Akwa Ibom Soups War: The Genesis, The Oily Banters And Everything You Need To Know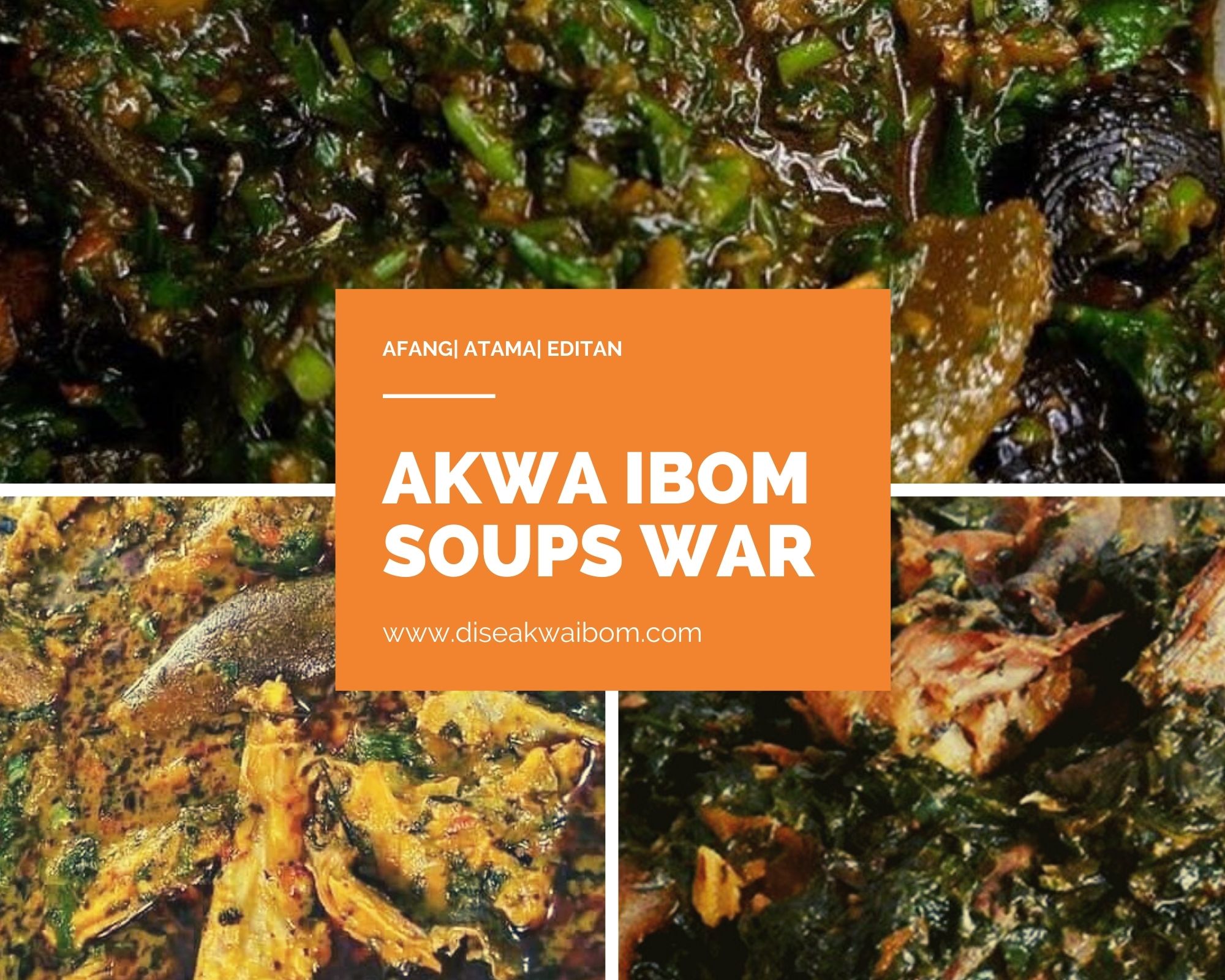 The Akwa Ibom Soups War would go down in history as one of the fiercest battle amongst soup lovers in the world.
Across the over 250 ethnic groups in Nigeria, soups in the Akwa-Cross region arguably have the most luring looks and palatable taste in the country.
From Afang soup to Afia Efere, Editan soup, Atama soup, Edikan Ikong and okro soup, ethnic groups in the Akwa-Cross region have a special way of making these soups hit the right spot in the brain while easily gliding through the oesophagus.
The Genesis of Akwa Ibom Soups War
On September 10, 2020, without any premeditation, a blogger and PR enthusiast, Eb Ekeng at exactly 7:17am dropped the first landmine.
The wide-eyed social media influencer asked a question that would later escalate into a full-flesh war among soup lovers.
Howbeit, he had no idea what lay ahead.
Ekeng went ahead to proclaim his allegiance to Atama soup and thereafter dropped alluring photos of the soup which left his followers salivating.
He bragged and bragged.
With that, his friend, a certain Samuel Udoma and fellow social media influencer confessed Ekeng had made him salivate too.
The two would go on to gather more gunpowder and drop more landmines.
The truth got exposed before midday – the duo were helping draw attention to a certain restaurant which had Atama on the menu for that afternoon.
Ekeng and friend got what they wanted but alas! The brags and claims they both had made about Atama caused an unexpected stir.
The Banters
Banters started flying around. The landmines began blowing up.  
Afang was dragged. Atama was dissed.
Afang was praised, Atama plundered with accolades.
Before the end of the day, pictures of Uyo's popular dress maker and CEO of Men's Court, Bobby Bassey flooded the social media space.
He was seen receiving a package from Udoma.
Udoma, Lead Publisher of the Gasm Blog put up a post and captioned it, "Bobby Bassey Dumps Afang Soup, accepts a plate of delicious Atama…"
Bassey, an ardent Afang soup lover later countered the claims made by Udoma and his camp of Atama advocates with a series of posts after going live on Facebook.
The war got hotter and spilled into a soup civil war.
Afang Soup Vs Atama Soup Polls: Day 2 (September 11)
By the next day, polls were running across Twitter, Facebook and Instagram.
Afang or Atama?
It looked like a war between football's most popular players Cristiano Ronaldo and Lionel Messi online.
But at the polls, Afang soup led with a wide margin.
Booom! Flyers emerged for a football match to hold between Team Afang and that of Atama the next day, Saturday.
The match was scheduled for the spacious field by the Ibibio Museum Park. Akwa Ibom's former commissioner of Tourism Victor Antai endorsed the war and so did a flurry of other top wigs.
However, like political battles, more factions emerged.
Godwin Morgan, co-founder 36Zero.ng joined the soup war with an armoured tank for Melon Soup. 
He succeeded to pull some e-soldiers on his side. Howbeit, he faced major opposition as more factions emerged.
Spurrti.com's co-founder, Eno-Obong Alphonsus flagged her campaign for Afia Efere. WeSocial.ng's Team Lead, Ekemini Joseph made a case for Efere Udung.
Voices emerged for Editan, Aniedi AnndeLegend of Netizen Digital struggled in the battle with a small team of Okro soup lovers.
More chaos. More banters. Brands and Public figures were jumping on the trend.
Governor Udom Emmanuel's Aide on New Media, Aniekeme Finbarr wrote a post eulogising Afang, Member representing Etinan/Nsit Ibom/Nsit Ubium Federal Constituency in the National Assembly, Honourable Onofiok Luke pulled his weight behind Okro by the third day of the war
Team Afang Vs Team Atama: Day 3
On Saturday, Akwa Ibom had been greatly stained with oil and the world couldn't help but watch on as no live was lost.
The football match ensued as was planned and both sides settled thereafter amicably with plates of Afang and Atama.
The Peoples Democratic Party's newly inaugurated Publicity Secretary, Borono Bassey, SA to the Governor on Social Reorientation, Mr. Ekpeno Gold, Vice Chairman of Uyo Local Government Area, Udeme Akai, Brand Consultant and Chief Waiter of Discovery Park Nature Udoh are said to have distinctly supported the idea.
The war of soups might be gradually waning in momentum ahead of Akwa Ibom's thirty-third birthday anniversary celebrated every 23rd of September and some believe the tourism sector of the state should have leveraged on the trend for economic gains.
Nollywoodian and Boot Film Camp's CEO, Aniebiet Francis opined that the wars should be beyond "social media trend and banter."
"Ibom Soups War: a tourism potential that should be taken beyond social media trend and banter," she stated on Facebook.
On the next day, September 13, the wars regained momentum but this time on the airwaves.
The Radio Debate: Afang Vs Atama
Governor Udom Emmanuel's Special Assistant on Research and Documentation, Mr. Essien Ndueso who anchors the Dakkada Media show on Comfort 95.1 FM announced (through a repost) that the wars will be on the aforementioned programme the next day.
And so it was!
Two Government Aides, one Pastor and one politician were roped into the battle.
SA to the Governor on Social Re-Orientation, Ekpeno Gold and Vice Chairman Uyo L.G.A, Udeme Akai held the fort for Atama.
The Governor's Personal Assistant on Public Affairs, Barr. Morgan Ekanem and a Gospel Minister, Pastor Ab Isong mounted the front lines for Afang.
Premises were made. Arguments were busted.
Afang was hailed, Atama heralded.
In the end, it was the callers who had the final say.
Eight callers pledge allegiance to Atama. Only two made obeisance to Afang.
The Judge, an academic, Dr. Nsikak Idiong had no other option than to declare Atama winner.
Atama had clearly beaten Afang on air!
Akwa Ibom Soups War Unveiled
With Afang having taken pole position at the polls and Atama having ruled the airwaves, the war seemed bound to halt to a gradual end.
Afang lovers were happy they had won online. Atama lovers rejoiced about their victory on air. The football match had ended even but like Aniebiet Francis had stated, there was need for something beyond trends and banters.
During the Dakkada Media Challenge on Radio, Akwa Ibom State's Commissioner for Culture and Tourism had called in to announce his Ministry's readiness to support whatever grand plan that would be proposed to him by the initiators of the trend which had made the state a talk of the country on social media.
On September 15, the journey to unveil the grand plan – #TheSoupsWar – began.
Eb Ekeng and his ally, Samuel Udoma, members of the Gasm Blog community, several influencers alike rolled the war drums.
This time with a well laid out plan to escalate the oily war that has brought Akwa Ibom people across ethnic lines and political divides together.
This article is daily updated. Do well to daily come back for more. And do SHARE! 🙏
You can also have your say. Which is your best Akwa Ibom soup?
40 DAYS OF AKWA IBOM (DAY 13): AFIA EFERE (WHITE SOUP)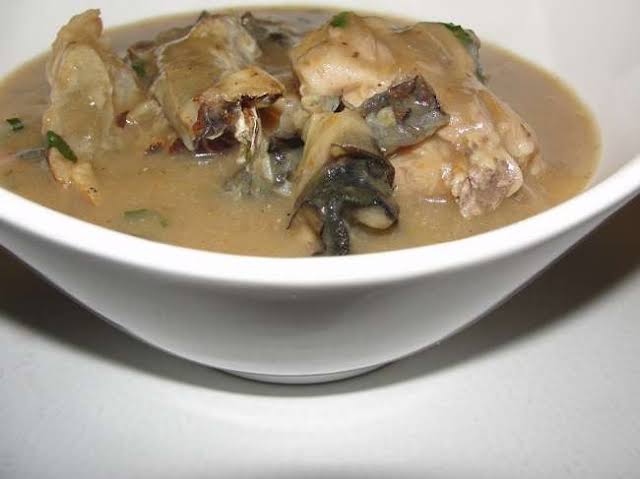 Hi there. It's great to have you back today.
If you've been following the series, then you know that today is Day 13/40. If not, take some time to catch up here. You'll be glad you did.
So let's dive in.
When was the last time you ate something GOOD? Not basic. Not boring. A meal that actually left you smiling in content while rubbing your tummy and wishing you could start over again.
Can you remember?
If you can't, it's alright. I'm here for you okay? I care about you and that's why I'm about to share a recipe for the best thing in this world. Afia Efere aka White Soup (aka the love of my life. Sorry Afang!)
Afia in Ibibio means White, although the soup isn't white per se. It's actually quite brown if we're being honest. It is thickened with chunks of white yam and the absence of palm oil also contributes to the overall afia-ness(I just made that up), of the soup.
Although similar to the Igbo Ofe Nsala, it differs by it's more aromatic taste due to the use of ingredients like uyayak and ehuru.
Try out this recipe, then come back to the comment section and tell me how it turned out. I'll be waiting okay? Don't spare any expense when you're making it. Buy as much meat and fish as possible. Enjoy yourself. Problem no dey finish.
RECIPE.
Ingredients.
Chicken/Beef/Goat Meat
Yam sliced into small chunks
Uyayak pod(aidan fruit)
Ground Ehuru/Calabash Nutmeg(optional)
Cameroon pepper
Smoked/Dry Fish
Ground Crayfish
Salt
Seasoning cubes
STEPS.
Wash meat thoroughly then transfer to a pot. Debone fish, wash and add to the meat. Add salt,pepper and seasoning cubes. Steam for a few minutes then cover with enough water and boil.
While meat is boiling, cut the yam into small chunks and wash. Boil in a separate pot until it's soft
2. Wash Uyayak pod to remove any dirt. Slice it and add to the boiling meat and fish. Add ehuru in small increments so that it doesn't overwhelm the taste of the soup. Put in the ground crayfish at this point and more seasoning and pepper if necessary.
Make sure you add enough water but not so much that it  becomes watery. If you want  thicker consistency, use less water and more yams.
3.Add cooked yam to soup and boil until you achieve the consistency you like. I like to use a spoon to cut through the yam pieces and mash them to make the soup thicker.
Re-season if necessary. Remove uyayak slices.
And just like that, your soup is ready.
I prefer to eat this with fresh pounded yam but since I detest manual labour, I use the powdered substitute or fresh fufu.
Thank you for sticking around till this point. Until next time, stay healthy y'all!
40 DAYS OF AKWA IBOM (DAY 1) AFANG: THE SOUP OF SOUPS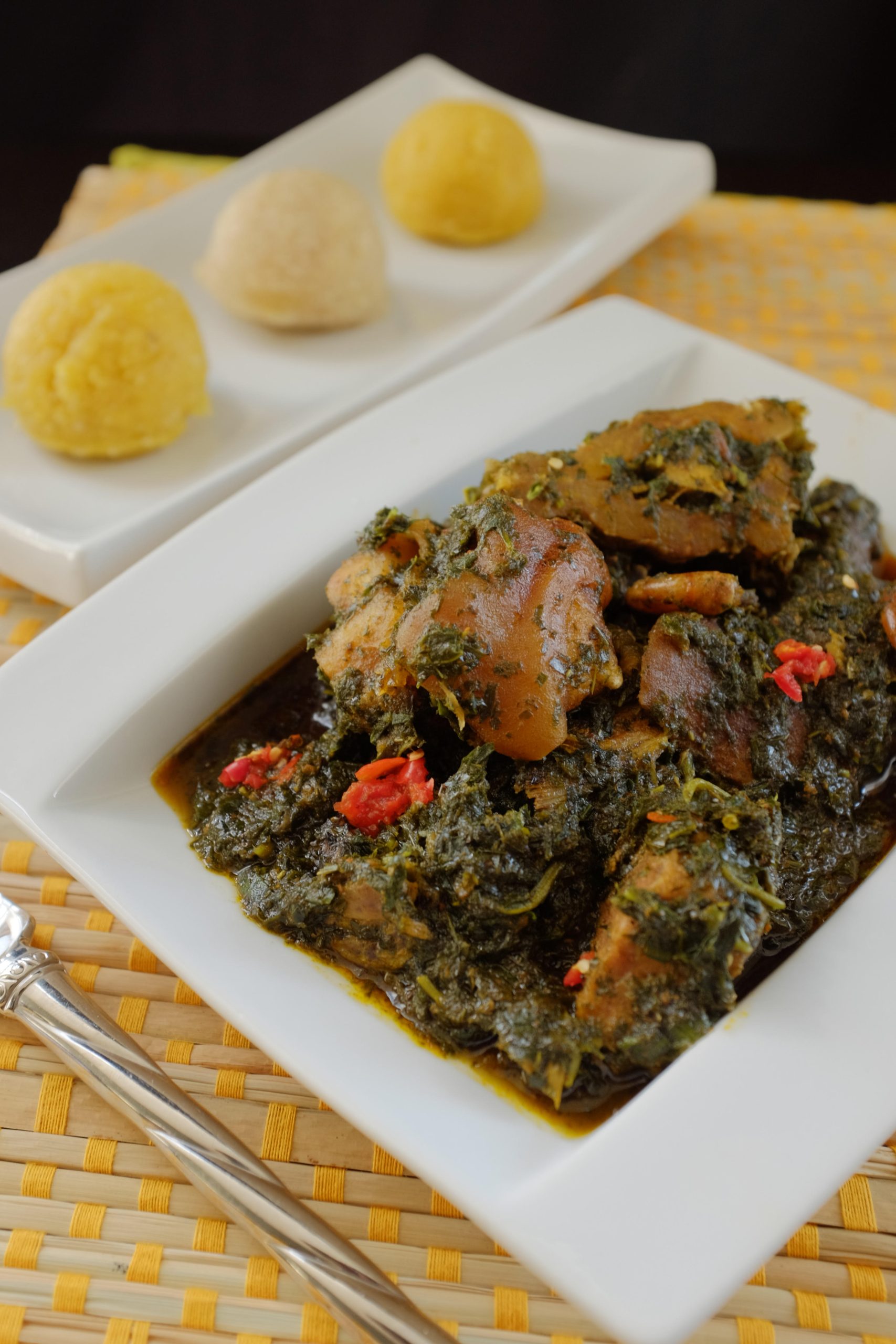 Do you remember the first time you ate Afang Soup?
If you grew up in Akwa Ibom, you probably don't remember. You've probably had it so many times that its allure has become second nature to you. That's why I'm here though, to make you fall in love with it all over again. Look at me going on and on again about food. It's probably obvious by now that I'm a huge foodie, hence the comments about love. Honestly though, Afang Soup is one of best things I've ever tasted.
Afang leaf, also called Eru in Cameroon and Okazi in other parts of Nigeria is a flavourful, green, leafy vegetable Gnetum africanum, that is commonly grown in West Africa and is used in different soups and stews.
Afang soup is quite the staple in the coastal cities of South Nigeria and is heavily featured in ceremonies of the Efik, Ibibio, and other residents of the 'South South.' Because some parts of Cameroon share a border with Southern Nigeria, Afang soup can be found here too.
I remember the first time I tasted it. I'd just arrived in Uyo for an exam at Uniuyo. My aunt gave me this huge bowl of eba and this dark coloured soup. I had never eaten it before then by the way so I was quite skeptical but I tried it anyway. Am I glad I did. It was amazing. Every single ingredient blended together in perfect harmony. From the slightly bittersweet taste of the Afang, to the smoky taste of the goat meat, to the rich flavour of palm oil, it was a party in my mouth and I was in awe. Now I'm hungry for Afang Soup again. (LOL). I've made so much noise about this soup but I haven't even told you how to make it. I'll be sure to include a recipe at the end of this article.
Have I mentioned that it's one meal that's quite cheap to make in Akwa Ibom but it's expensive everywhere else? For instance, my friend in Lagos (Hi Naomi), complained the other day that the Afang leaves she bought there were so expensive and small and that she would've bought the same amount of leaves for 200 naira in Uyo. Waterleaf is also quite cheap here. I bought 3 huge piles of it for 100 naira last month at Itam Market. I had to give some out because it couldn't fit into my pot.
Afang Soup is a lifesaver honestly. As a broke medical student, it's one soup that I've made countless times and stored in a refrigerator for up to 3 weeks. DO YOU KNOW HOW ECONOMICAL THAT IS?!
If you're a student in Akwa Ibom, you probably know what I'm talking about. So that's what this entire article is about. My love affair with Afang Soup. One day, I'll tell you about the other love of my life but that's a story for another day. For now, I'll leave you with this recipe for the best thing you'll ever eat in your life.
NOW, ABOUT THAT RECIPE I PROMISED YOU.
Detailed Steps for cooking Afang Soup
Wash and season goat meat with onion, stock cube, pepper and salt to taste.
Using a motar and pistle, pound the thinly sliced afang leaves
Wash and cut the waterleaf
Wash the dry fish with salt, breaking off the head of the dry fish, only the body should be used.
Using hot water, soak the stock fish head, till its soft enough to be broken.
In a large pot, add waterleaf, crayfish, dryfish, palm oil and meat stock and meat, allow to boil out.
Add stock cubes, Salt and pepper to taste and allow to boil.
Add the pounded afang leaves, stir and leave for 2 minutes
Serve hot with fufu/garri or any other swallow.
Different people make their Afang in their own different ways, giving rise to their many different tastes, smells, textures and even colours.
There's nothing like eating Afang made a different way and falling in love with the soup all over again.
Anyways, that's all for today. Tomorrow, we will show you a whole new side to the beautiful Akwa Ibom State.
See ya!