40 DAYS OF AKWA IBOM (DAY 13): AFIA EFERE (WHITE SOUP)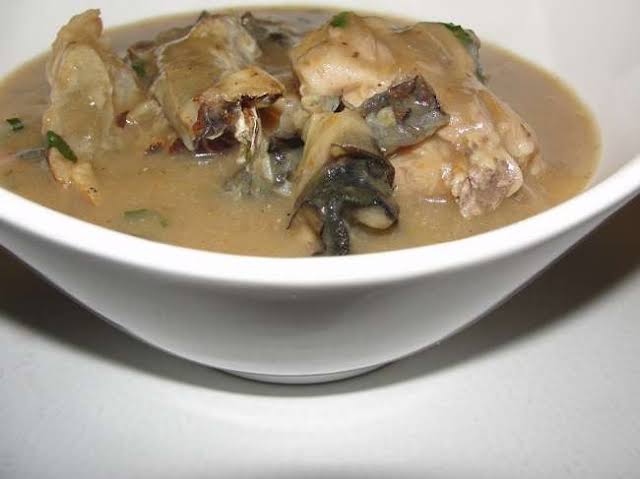 Hi there. It's great to have you back today.
If you've been following the series, then you know that today is Day 13/40. If not, take some time to catch up here. You'll be glad you did.
So let's dive in.
When was the last time you ate something GOOD? Not basic. Not boring. A meal that actually left you smiling in content while rubbing your tummy and wishing you could start over again.
Can you remember?
If you can't, it's alright. I'm here for you okay? I care about you and that's why I'm about to share a recipe for the best thing in this world. Afia Efere aka White Soup (aka the love of my life. Sorry Afang!)
Afia in Ibibio means White, although the soup isn't white per se. It's actually quite brown if we're being honest. It is thickened with chunks of white yam and the absence of palm oil also contributes to the overall afia-ness(I just made that up), of the soup.
Although similar to the Igbo Ofe Nsala, it differs by it's more aromatic taste due to the use of ingredients like uyayak and ehuru.
Try out this recipe, then come back to the comment section and tell me how it turned out. I'll be waiting okay? Don't spare any expense when you're making it. Buy as much meat and fish as possible. Enjoy yourself. Problem no dey finish.
RECIPE.
Ingredients.
Chicken/Beef/Goat Meat
Yam sliced into small chunks
Uyayak pod(aidan fruit)
Ground Ehuru/Calabash Nutmeg(optional)
Cameroon pepper
Smoked/Dry Fish
Ground Crayfish
Salt
Seasoning cubes
STEPS.
Wash meat thoroughly then transfer to a pot. Debone fish, wash and add to the meat. Add salt,pepper and seasoning cubes. Steam for a few minutes then cover with enough water and boil.
While meat is boiling, cut the yam into small chunks and wash. Boil in a separate pot until it's soft
2. Wash Uyayak pod to remove any dirt. Slice it and add to the boiling meat and fish. Add ehuru in small increments so that it doesn't overwhelm the taste of the soup. Put in the ground crayfish at this point and more seasoning and pepper if necessary.
Make sure you add enough water but not so much that it becomes watery. If you want thicker consistency, use less water and more yams.
3.Add cooked yam to soup and boil until you achieve the consistency you like. I like to use a spoon to cut through the yam pieces and mash them to make the soup thicker.
Re-season if necessary. Remove uyayak slices.
And just like that, your soup is ready.
I prefer to eat this with fresh pounded yam but since I detest manual labour, I use the powdered substitute or fresh fufu.
Thank you for sticking around till this point. Until next time, stay healthy y'all!
40 DAYS OF AKWA IBOM (DAY 15): THE KIND ONES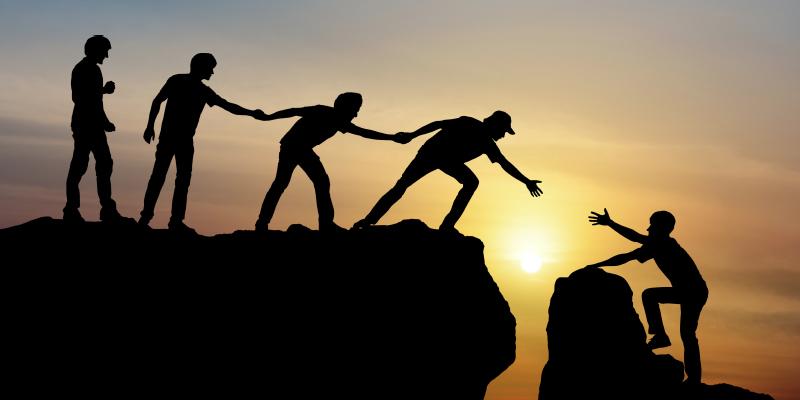 The average Akwa Ibomite is supremely kind!
This is not a statement of sentiment. It is not a statement of bias, Akwa Ibomites really are some of the kindest Nigerians I've ever gotten to meet.
On no day was this more evident than on a rainy day when I went to the market. A very dirty looking young man who was clearly mentally unstable came to meet me. He was hungry.
"What will you like to eat?" I asked him.
He held out the stick of smoked fish in his hand. He wanted to make soup. Soup would last longer.
He looked like someone who would readily use any money given to him to get drugs, and I really did want to help him. So I told him, "We have N800. What do you want to buy?"
We went to different parts of the market to get different condiments for his soup, and I was pleasingly surprised at the kindness that was shown to the young man.
Even though a lot of them made fun of him, things that didn't seem to get to him as he joked over the fun they poked, they gave him a lot of things in excess.
By the time the N800 was spent, I strongly believe there was food worth N1500, if not more in his small bag.
From the exchanges that occurred between him and the market women, It was clear that this was a regular occurrence. The only reason this young man was not dead or eating from trash yet was because people constantly cared enough to give him food everyday.
This is an aspect of Akwa Ibom that can be readily overlooked. It is an aspect of Akwa Ibom that I have to greatly admire in my people.
Until next time.
40 Days Of Akwa Ibom (Day 12): Mama Topiem; The Trainer Of Trainers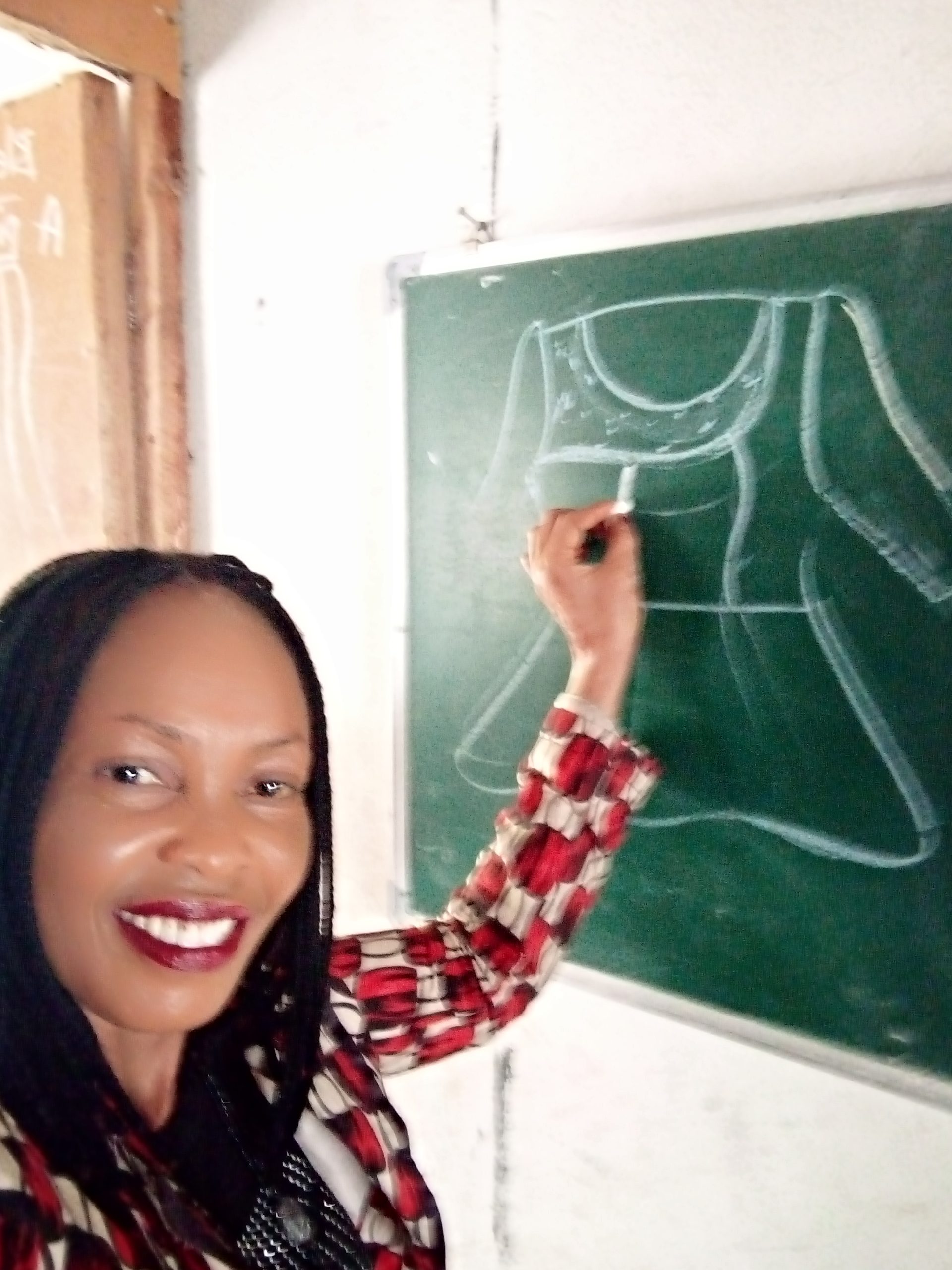 A journey from adversity to recognition is probably one we have heard of a million times. It is also the kind of story we can never seem to get enough of. The underdog story inspires. it makes us believe we can be more than we are. The journey of Mrs Emem Festus Awodein (yes, she's an Akwa Ibomite) is one that has seen it all. It is unfortunate that not everything can be shared here, but I hope you enjoy the parts that we actually can share.
Dise Akwa Ibom: Please tell us your name Ma.
Mrs Awodein: Okay. My name is Emem Festus Awodein.
Dise Akwa Ibom: Please tell us about yourself.
Mrs Awodein: I am the CEO of TOPIEM FASHION AND DESIGN here in Ikot Abasi. I am a fashion designer. I started my life at a very young age. I left home due to some financial situation. I came here (Ikot Abasi) when i was 19. My mother was a seamstress, so I got the knowledge of sewing from here. When I came here, I started with sewing children's wears and from there, i graduated to whee I am today. I am a mother of three, even though i lost my husband, I'm a widow, but with the help of this work, I've been able to train my children. My first daughter is in the University, the second one is in secondary school and the last one in primary. So, I have been able to train over a hundred plus people in this town and by the grace of God, I got contracts from various companies like TOTAL. I'm one of the trainers there. I am a one time treasurer of AKWA IBOM STATE TAILORS' ASSOCIATION.
Dise Akwa Ibom: So Aunty, how are you able to balance family life with your business?
Mrs. Awodein: Okay, in that aspect, I have workers with me, but i also have to be at the shop between 7:30 and 8:00 (am) and then I will work till 6:00 (pm) and then close so that I can meet up with some home activities. With my workers at the shop, I have those that I'm paying and those that are working as trainees. My children, some are in boarding school. When they come back, they always join me. All my children can sow. With that, I think I'm able to attend to my family and at the same time satisfy my customers.
Dise Akwa Ibom: So Aunty, about your business, what are the challenges you faced when you started and what would you advise young people today that are going into business for themselves.?
Mrs Awodein: The major challenge I have faced in this skilled job is having to depend on customers for my daily income. Unlike the salary earners who are certain of their pay, our work most times is left to chance. At some point, it seemed to me that I was living a hand to mouth life. My advice to young people going into skill related businesses is to invest in products as well as services. That way they don't have to depend too much on collecting more work than they can actually do and having to lie to customers.
Dise Akwa Ibom: Aunty, do you have any future plans for your business? What's your vision?
Mrs. Awodein: I enjoy teaching a whole lot. For the longest time I have wanted to open a fashion school so that talented youths who cannot afford going to the higher institution are provided the opportunity to learn this skill. That will free me up to be able to better teach the people I get to train instead of rushing sometimes due to the urgency of some jobs.
Dise Akwa Ibom: So what are your favorite things about Akwa Ibom?
Mrs. Awodein: The dishes; I doubt there's any tribe in Nigeria that prepares better dishes than Akwa Ibom.
Dise Akwa Ibom: Do you have a favorite hangout in Akwa Ibom?
Mrs. Awodein: During the weekends, I especially enjoy chilling out in RichMan hotel in Ibeno, Eket. It is quite close to the beach and I love it for the beautiful view of the ocean.
Dise Akwa Ibom: Is there anything you will like to tell our readers?
Mrs. Awodein: I especially like addressing the youths so, to the youths out there, we are in an age where one can have a degree and remain unemployed hence, my advice is this, every youth should acquire a skill. It may seem irrelevant now but it will bear fruits in the future.
Dise Akwa Ibom: Thank you for your time Ma.
Mrs Awodein: The pleasure is all mine.
There's so much more about Mrs Awodein than meets the eye. She may be Yoruba by name, but she's Akwa Ibom by everything else. She has been actively involved in training more than a hundred and fifty tailors and seamstresses in Ikot Abasi L.G.A who have also gone on to train many more people. Her business is now 20 years old and for one who started so young and without prior formal training in design, getting to where she's gotten has proven how talented and how much of a stalwart she is.
Akwa Ibom people are strong. The people have been through a lot as a people and have survived. The future looks very promising for the Land Of Promise.
Until next time.
40 DAYS OF AKWA IBOM (DAY 4): GARRI WILL BE SOLD FOR N10 A CUP IN FIVE TO SEVEN YEARS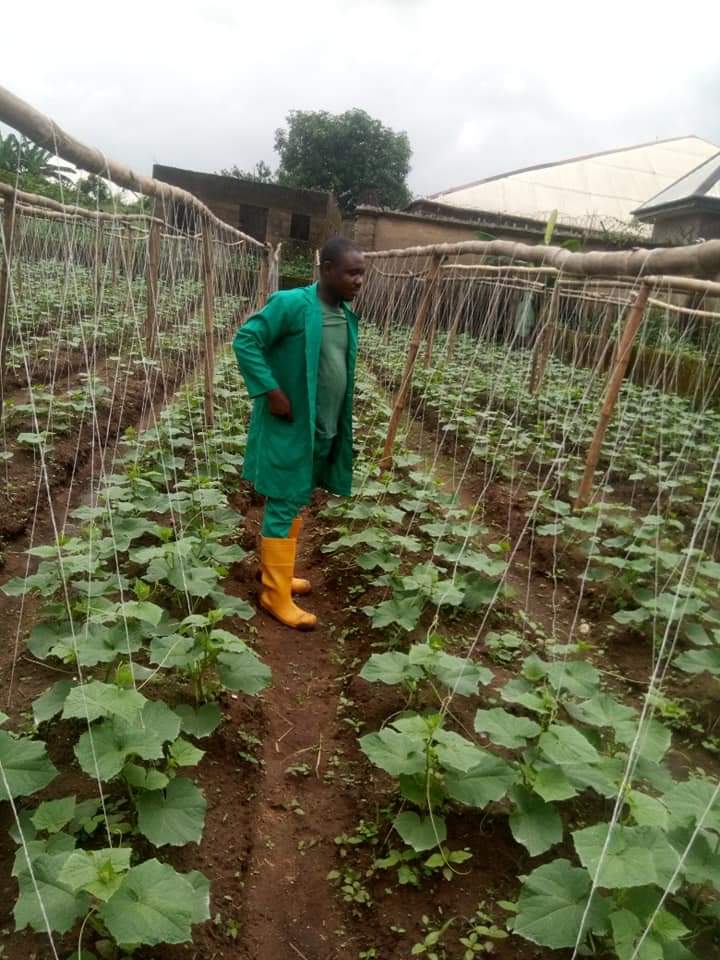 "My target in the next five years is that I'm going to be one of the biggest farmers in South South, in Nigeria here."
Meet Mr Aniebiet Antia of ANTIA'S FARMS, a man with big dreams, not just for himself but also for the state and people of Akwa Ibom.
Mr Antia hails from Ikot Essien Oku Iboku in Itu Local Government Area of Akwa Ibom State and is married with children. He is also the owner of one of the newest big farm projects in the state. In fact, his farm was only forty days old yesterday. (Crazy right?)
Before the pandemic shut down the world, Mr Antiah sold fabrics and caps. Once everything and everyone was locked indoors, business plummeted.
In his own words, "One of the things that motivated me into farming was COVID19. Number two thing that motivated me into farming is my family. It's for me to be able to provide for my family. The number three thing that motivated me into agriculture is the DAKADDA philosophy of Governor Udom Emmanuel. His completion agenda in the area of agriculture. I told myself that I want to be part of this completion agenda to also boost the food sufficiency in the state."
When you take a walk in his two and a half plots of farmed land, you will see stands of cucumber and water melon occupying most of the current space. This however is only the beginning.
Before all of this was put in motion, he had to undergo some training to be able to farm and care for crops of different kinds. This has especially helped him considering he is already looking forward to his first harvest tomorrow.
"I'm going to plant a very big farm, and by God's special grace, within the next five to seven years, a cup of garri in my state shall be sold at N10 because of my passion for agriculture and what I've seen and how I'm going to invest in agriculture. And if I have the support that I'm looking for, I'm going to take it to a much higher level."
He plans to plant 10 hectares of land in the next five months. This will include spaces for hybrid pawpaw, cucumber, watermelon, banana, tomatoes and even space for a fish farm. In fact, according to Mr Antia, he plans to eventually plant every food crop consumed in the state to prevent Akwa Ibomites from having to get their food from other states. (And who knows, he could end up farming a host of animals as well.)
"My future is now. My future is today. I'm expanding every second of my life." These were his words when he was asked about expansions.
His wife, Mrs Antia, has been an amazing source of encouragement to him. He probably wouldn't have gone into the field without her support. Other sources of encouragement have been Elder Ufot Ebong and other men too numerous to mention, who have shown that agriculture, in the scale he plans to indulge in, is possible and very profitable.
Mr Antia is also a blogger and art dealer and combines these perfectly with his agricultural exploits.
"Akwa Ibom is the destination of choice. That is how I can describe Akwa Ibom, and that is what Akwa Ibom is." These were the last words that Mr Antia said to us and they are true words indeed.
Akwa Ibom stands with Mr Antia. Akwa Ibom stands with Antia's farms and we at diseakwaibom.com believe that indeed, because of people like Mr Antia, garri will be sold for N10 a cup someday soon.